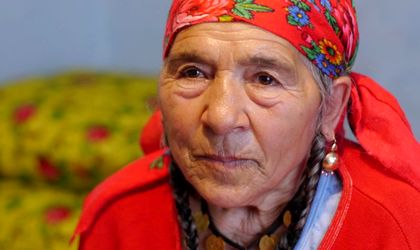 According to the official data provided by historical sources, between 1943 and 1945, 25.000 Romani people were deported to Transnistria by the Antonescu regime, being sent there to die, as an old Roma woman says in the opening of the film. Half of them soon died of hunger, cold or other causes.
70 years later, a few survivors, who were children at that time, recall and give a sad account of those terrible events. The film aims to reconstruct the journey, places and tragic experiences of the past. Interviews with the members of the Ukrainian community from Transnistria expand the stories of the Roma survivors and transform an area nowadays apparently trivial in a place of anthropological value, memories and tears – which fortunately has a monument with a stone and a wheel, representing Roma's nomadic lives.
One of the most impressive scenes from the film represents several descriptions of the hunger moments of that time. The elders remember how they were selling dresses for corn, or they read tarot cards, many of them were bagging for mercy and only a few were actually stealing from houses. When the hunger became greater, they had to eat their dead relatives or to cut pieces of their own body in order to eat.
"They told us everything and we didn't even have to put extra questions while the elders wanted their story to be heard", explained the directors after the screening.
Considered an anthropological movie by the directors, The Valley of Sighs / Valea Plangerii speaks up about the genocide theme that happened under Antonescu regime, which is not promoted at all in Romania. They weren't exterminated as in the case of August 2, 1944 in Auschwitz, known in history as the "Final Solution" for the "Gypsy Family Camp", but they were deported in Transnistria without precise orders – Romanian government just wanted to get rid of them.  The movie was made at the initiative of the Institute for Studying National Minorities, directed by Mihai Andrei Leaha, Andrei Crișan, Iulia Hossu with the Scientific advisor support offered by Petre Matei.
The film was screened during Rasnov Historical Film Festival. The themes of this sixth run are the Great War, 1989 – was it or wasn't it? and Los Angeles 1984. Over 40 documentaries and fiction films, historical debates and witness testimonies, interviews with actors and directors, concerts and book presentations will take place.
The film festival will take place between August 1-10, in Rasnov Citadel, Brasov County. More information about the festival, here.
Photo courtesy of Triba Film
Oana Vasiliu