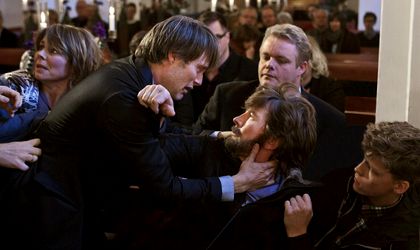 The Crucible, Arthur Miller's dramatization of the Salem witch trials, depicts how the taint of allegations can whip up a close-knit community into a frenzy of hatred and violence against entirely innocent people. Thomas Vinterberg's mesmerizing thriller The Hunt transports The Crucible to modern-day Denmark, replacing witchcraft with child abuse.
Lucas (Mads Mikkelsen) is a middle-aged divorcee working in a kindergarten since losing his teaching job when the school closed. Though somewhat reserved, he's a decent man, and things are looking up for him after his recent troubles: his adolescent son (Lasse Fogelstrom) wants to move in with him and he's shyly navigating the early stages of a romance with an Eastern European colleague (Alexandra Rapaport).
The children love the rough-and-tumble play he engages in and he's a good neighbor and friend, picking up the parental slack for best pal Theo (Thomas Bo Larsen), whose volatile relationship with his wife has left their kids somewhat neglected. In short, Lucas is snugly ensconced in the local community. All of which changes following a false allegation by a young child.
The journey from respected educator to social pariah is rapid and dreadful. The Hunt shows how easily friendships, relationships, careers and acceptance disintegrate once the stench of pedophilia attaches to someone, however unfairly. Lucas's former friends first shun then persecute him, and the scandal spreads to engulf his loved ones. There are tense confrontations that are almost painful to watch. The movie also brings home the value of a true friend who stands by you when the rest of the world turns its back.
Mikkelsen is a powerhouse of pathos as haunted, hunted Lucas, his life destroyed by forces entirely outside his control, a cosmic game of Chinese whispers in which the babblings of a confused child somehow crystallize into hard fact. The most shocking element is how he is punished despite having done nothing wrong; Vinterberg makes the viewer confront uncomfortable truths about society's rush to condemn on the flimsiest of evidence.
In a culture where such paranoia surrounds child safety that an adult – certainly a man – would deliberately avoid a lone child crying in public for fear of being branded a potential pervert, any one of us could end up in Lucas's shoes. Sealing his fate is the fearful proceduralism that governs the modern workplace: Lucas's colleagues' determination to cover their backs in the face of possible "inappropriateness" blinds them to the obvious fact that young children sometimes make things up.
Alongside Mikkelsen's central performance are moving turns from the supporting cast, including Fogelstrom as Lucas's bewildered son, caught in the crossfire and vainly trying to protect his dad from the lynch mob with a teen's righteous fury and impotence.
Larsen's Theo is suitably conflicted over whether to believe his daughter or his best friend, while Lars Ranthe's Bruun sounds a rare note of sanity in the film as the type of steadfast, sensible friend that anybody would be lucky to have. Susse Wold is also memorable as the sour kindergarten supervisor who fans the flames of parental panic.
And the director has coaxed an astonishingly nuanced performance from Annika Wedderkopp as the lonely and mixed-up four-year-old "victim", the unwitting catalyst for the mayhem. It is one of the many remarkable elements of this harrowing, outstanding picture.
Director: Thomas Vinterberg
Starring: Mads Mikkelsen, Thomas Bo Larsen, Lasse Fogelstrom, Annika Wedderkopp
On at: Cinema City Cotroceni, Europa, Hollywood Multiplex, Movieplex, NCRR, Patria, Studio, Cinemateca Union