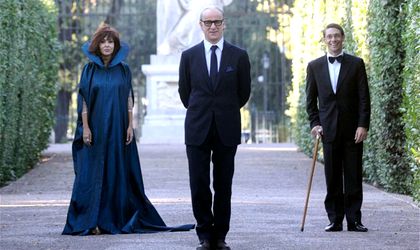 Imagine an arty music video that lasts two hours and twenty-two minutes. Imagine La Notte or La Dolce Vita, updated for the "bunga bunga" era. Imagine a meander among Rome's beautiful and damned, a series of salons where ageing A-listers yak about their ennui in empty art galleries and teeming techno clubs.
Sic, La grande bellezza. This is a movie so lavish, so lush, so elegant, so elegiac, that you can almost – almost – forgive it for its total lack of plot. Scratch that – it's not a movie. It's a visual poem for a decaying and decadent eternal city with a cast of caricatures (not characters) perpetually confronting the morning after the night before. Sic transit gloria mundi.
The Dante who takes us on this tour through the seven circles of Rome's glitterati is Jep Gambardella (Toni Servillo), a sardonic high-society journalist now looking down the barrel of old age and its inevitable successor. Jep never made good on the promise of his blistering early novel and instead settled for a comfortable career (his apartment terrace overlooks the Colosseum) interviewing "celebrities" and writing about "art". In a surreal scene he watches a pompous performer whose act consists of running naked into concrete pillars, a droll dismissal of modern artistic expression.
But such assignments are rare for lounge lizard Jep, who spends most of his nocturnal existence flitting between parties and shooting the breeze with other dissolute Eurotrash – clubland impresarios, fading strippers, failed writers, flabby socialites and depressive MAWs (model, actress, whatever). Nuns, bishops and the odd saint also join the carnival – director Paolo Sorrentino brilliantly juxtaposes Rome's religious and profane sides. This is encapsulated in an exquisitely eclectic soundtrack, which runs from an a capella nun chorus to kitschy club classics like We No Speak Americano.
The Great Beauty dazzles with its cinematography, bursts of perception and fashionable freaks. The opening sequence (which typically has nothing to do with the rest of the film) is glorious, worth seeing even if the overall movie leaves you cold. Which it might: its listlessness and lack of direction are trying, as Jep seems frequently on the point of rejecting his shallow lifestyle, but – like similarly jaded paisan Michael Corleone – is always pulled back in. Major characters disappear and die, but it never interrupts the music.
All of the scenes – from the barnstorming beginning to the languid yet compelling closing credits – are absorbing. But, like its forebears La Dolce Vita and La Notte, this is essentially pretentious and unsympathetic rich people drifting around town, banging on about their angst-ridden lives for 142 minutes.
As a comment on Italian malaise and the ludicrous excess and vulgarity of the Berlusconi era, it is far more focused, and quotable moments abound. A brash young actor boasts to a moody model of his film roles: "I'm playing a Pope in one, and a junkie on the road to recovery in the other." That's La grande bellezza.
Director: Paolo Sorrentino
Starring: Toni Servillo
The Great Beauty is part of the Bucharest International Film Festival line-up.
Debbie Stowe