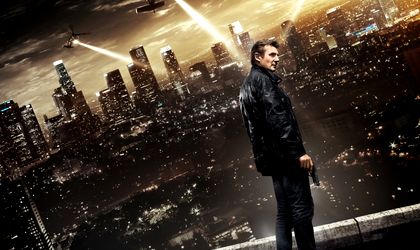 "I don't know who you are." I'm a film critic, Mr. Neeson. "I don't know what you want…" I want an enjoyable action thriller, in which you dispatch bad guys and save your wife/daughter.
"If you are looking for ransom I can tell you I don't have money, but what I do have are a very particular set of skills. Skills I have acquired over a very long career…" Oh yes, you do, Mr. Neeson. Skills such as tracking your kidnapped wife/daughter in foreign cities and single-handedly eliminating the dozens of Eastern European gangsters holding her.
"If you let my daughter go now that'll be the end of it. I will not look for you, I will not pursue you, but if you don't, I will look for you, I will find you and I will kill you…" Yay, go Liam! This menacing promise heralded the start of ex-CIA man Bryan Mills's hunt for kidnapped Kim in Taken. With Harrison Ford now past 70, the baton of Abducted Family Rescuer-in-chief has been entrusted to Neeson, and a very decent job he made of it too in the ludicrous but effective 2008 film, to which this is the second sequel.
The franchise (shudder) is now on its final outing. As with similar action series (Die Hard, Matrix, Terminator etc), the returns are rapidly diminishing. While the first Taken owed a big debt to TV series 24 and the Bourne films, Neeson was fresh in the role, and the ruthlessness of the bad guys – sex traffickers who kidnapped women (and not just foreign ones, but – gasp – Americans!) and forced them into prostitution – created real tension.
Taken 2 rehashed the kidnap scenario, this time with Bryan's ex-wife dragged in (obviously an ex-wife he is still in love with, in the manner of all divorced action heroes). But Neeson only agreed to make the third film on condition that nobody would be kidnapped. Spoilsport. So here we have a movie called Taken, for the majority of which nobody is taken, robbing the story of much of the jeopardy that enlivened the first two outings. Proceedings instead play out as a standard Fight to Clear his Name, with Bryan framed by criminals harboring a grievance against him from the previous Takens (quite a large cohort considering his kills must easily run into three figures).
It's all quite slow to get started, and weighed down by some dreary domestic subplots that belong more on Bored Housewives' TV soaps than in a Neeson thriller.
Still, it's lovable Liam in an action movie, so not a total waste of your time and money. There are some effective twists and nicely executed set pieces. Another highlight is the presence of (the albeit underused) Forest Whitaker as a smart cop who remains skeptical of the hero's apparently obvious guilt (think Tommy Lee Jones in The Fugitive), which lends the film a touch of class it doesn't really deserve.
So rest easy, Kim Mills: your dad's days of looking for, finding and killing the bad guys into whose clutches you repeatedly fall seem over. And rest easy, Liam Neeson fans, as we shall be spared Taken 4.
Debbie Stowe
Director: Olivier Megaton
Starring: Liam Neeson, Forest Whitaker, Famke Janssen, Maggie Grace, Dougray Scott, Sam Spruell, Leland Orser
On at: Glendale Studio, Grand Cinema & More, Grand VIP Studios, Cine Grand Titan, Movieplex Cinema Plaza, Cinema City Cotroceni, Cinema City Sun Plaza, The Light Cinema