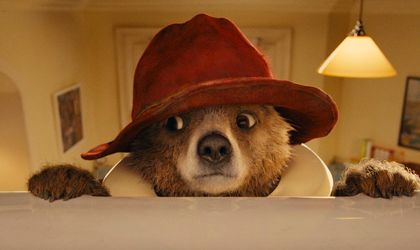 Films based on popular children's books can be a license to print money: see Harry Potter, Twilight, Hunger Games, etc. But Paddington is a different kettle of fish (or jar of marmalade for the initiated): while the bear – who appeared in stories by English author Michael Bond in the 1960s and 1970s – is much loved in the UK, he doesn't enjoy the global renown of, say, a Harry Potter.
On top of this, a misconceived adaptation risks alienating the adults who take their kids, many of whom fondly (and protectively) recall Paddington tales from their childhood.
Happily, the movie has avoided these pitfalls: it's a lovely story, brimming with wit and warmth, faithful enough to the source material to please fans, but fully accessible to anyone encountering the furry hero for the first time.
When circumstances force him to leave his native Peru, young Paddington (perfectly voiced by Ben Whishaw) embarks upon a journey to London, following up on a long-standing invitation. Unable immediately to find his contact, the bear makes a temporary home with the upper middle-class Brown family. Although stern patriarch Mr. Brown (Downton Abbey's Hugh Bonneville), a stuffy risk analyst, has misgivings about housing a wild animal in the family home, Mrs. Brown (Sally Hawkins) prevails upon him to let Paddington stay for a while – she's a children's book illustrator so we know she's got soul.
Fans of UK children's films will recognize the template of a quirky outsider helping an austere London financial professional to bond with his family from Mary Poppins. And Paddington does not suffer from comparison with that enduring classic: this is a truly delightful film that appeals on multiple levels.
Children will love the slapstick comedy that ensues when our hapless hero attempts to master the intricacies of urban plumbing, or negotiate London streets and public transport. There are witty sight gags (including some wry wordplay on the side of a van) and a disguise that verges on the risqué.
But the biggest laughs of an excellent script are reserved for the grown-ups. Observational humor about parenthood, jokes about insurance and insider trading and a nicely nailed skit on London cabbies – all of this will go flying over young heads straight to the adults in the audience.
On the more serious side, the movie sends a heartwarming message about individuality, kindness, acceptance and belonging. It's also a huge advert for London. But any moralizing or marketing is done with such charm that you'll forgive it.
The cast is superb, from Bonneville and Hawkins as the Browns, and the ever fabulous Julie Walters as their housekeeper Mrs. Bird, to Nicole Kidman and current Doctor Who Peter Capaldi as the schemers providing the peril. Old guard British A-listers Jim Broadbent, Michael Gambon and Imelda Staunton (it could be a Harry Potter reunion) provide solid support.
Whether you're a cub or an old grizzly, a Paddington aficionado or entirely new to the ursine adventurer, this is an irresistible gem of a movie, a piece of bear-faced brilliance.
Debbie Stowe
Director: Paul King
Starring: Hugh Bonneville, Sally Hawkins, Julie Walters, Jim Broadbent, Peter Capaldi, Nicole Kidman, Ben Whishaw
On at: Grand Cinema & More, Hollywood Multiplex, Movieplex Cinema Plaza, Cine Grand Titan, Cinema City Cotroceni, Cinema City Sun Plaza, The Light Cinema, Glendale Studio, Caffe Cinema 3D Patria, Patria