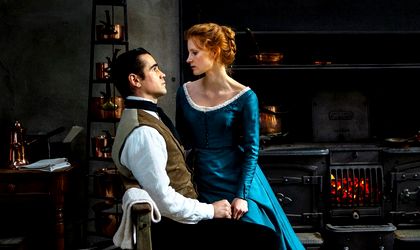 A baron's bored daughter takes a fancy to the dashing valet – it could be a fun plot from Downton Abbey, the wildly popular period drama/soap. Throw in a broody Colin Farrell, striding around in a fetching waistcoat and tie, and surely we are in for some bodice-ripping fun?
No. We are in for a lot of things from Miss Julie – fine acting, drama, heavy emotion and a very grim look at class and gender divisions – but fun is not one of them.
The movie, based on an 1888 Swedish play, was written and directed by Ingmar Bergman muse Liv Ullmann, and – despite having been transposed to Ireland – is suffused with Nordic gloom. The source material was set exclusively in the kitchen of a large manor house, and the film faithfully follows suit – albeit with a few forays outside and into other parts of the building – giving it a static, stagey and oppressive feel.
The claustrophobia is intensified by the small cast – this is a three-hander. Jessica Chastain is the depressed titular aristocrat, Farrell the ambitious and aggrieved servant John and Samantha Morton his more grounded fiancée, Kathryn.
Julie and John get most of the screen time – both are manifestly unlikeable. Julie's loneliness and unhappiness have made her an impossible boss, flighty, demanding, unreasonable, inappropriate and imperious. As John's real character emerges, we see him as vain, manipulative, cruel, cold and arrogant. Showing some kindness and sense, Kathryn is slightly better, but still too po-faced and pious to attract much sympathy.
With the story playing out largely in one setting, and taking place over the course of one midsummer night (which creates an ominous perpetual daylight that must have been more realistic in the play's Swedish location than in Ireland), the actors are exposed. All three are up to the task, with Chastain further showcasing the vulnerability in evidence in her convincing performances in Zero Dark Thirty and The Help. Farrell, meanwhile, plays against type in a darkly serious role.
The movie scrutinizes the brutal class and gender divisions of the 19th century, in a much bleaker way than Downton Abbey. Julie's ludicrous and whimsical demands – to which John and Kathryn must dance, just because they are of the servant class and they are reliant on the wages and favor of her father – make clear the stupidity of the feudalism that venerated upper-class fools and kept down intelligent, driven members of the working class.
Similarly the threat of permanent "ruin" hanging over Julie simply for brief physical involvement – however consensual – with a servant shows the preposterousness of draconian Victorian-era morality.
The atmosphere of despondency enveloping proceedings from the off suggests that the movie won't end with Julie and John skipping off into the sunset hand in hand, and indeed Ullmann doesn't disappoint with her downbeat, depressing finale. Upstairs-downstairs liaisons have never looked less enjoyable.
By Debbie Stowe
Director: Liv Ullmann
Starring: Jessica Chastain, Colin Farrell, Samantha Morton
On at: Grand Cinema & More, Hollywood Multiplex, Cinema City Cotroceni, Cinemateca Union