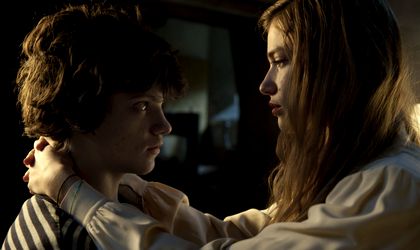 An Italian Home Alone for grown-ups, Bernardo Bertolucci's first film in a decade is a low-key two-hander, supported by impressive performances from its young leads. The "me" of the title is Lorenzo, a troubled teenager who dodges a school ski trip to hang out in the basement of his Rome apartment block for a week, rocking out to the Red Hot Chili Peppers and reading books.
Debbie Stowe
Lorenzo (Jacopo Olmo Antinori) meticulously assembles his provisions – seven cans of Coke, seven bottles of juice, etc – but his hopes of solitude are dashed by the arrival of his chaotic half-sister Olivia (Tea Falco) who needs a place to crash as she goes cold turkey from heroin. Over the course of the week they talk, fight and bond.
There is some action – the characters make occasional trips outside the basement and interact with a handful of other people – but Bertolucci's real concern is the siblings' developing relationship. Their separate psychological difficulties – Lorenzo's isolation from his indifferent peers and Olivia's addiction and dubious relationships with men – serve merely as backdrop.
The story doesn't break new ground: we know that shy, spotty teenage boys have a tough time at school and that pretty young women with drug habits fall prey to sleazy men. What keeps the film engaging is what the two actors make of their characters.
Falco's heroin addict is not so far gone down the junkie path that all hope is lost, and scenes of her moaning and retching as her body craves its fix are interspersed with others of her singing and dancing, talking about her photography projects and making (somewhat naïve) plans for her post-drug life.
But the heart of Me and You is Antinori, whose mature and nuanced performance wrings out every teenage trait: apathy, anger, awkwardness, sulkiness, guilelessness, hope and childlike sweetness. His uncanny resemblance to the actor Malcolm McDowell also allows the director some room for cinematic allusion. Another British 1970s countercultural figure also looms large: the movie gives extensive airplay to both the original and the Italian version of David Bowie's Space Oddity, Ragazzo Solo, Ragazza Sola. With the title translating to "lonely boy, lonely girl", the relevance is obvious.
The basement setting that dominates proceedings keeps the film's focus tight, and some critics have bemoaned the lack of politics and wider concerns from the Oscar-winning director in Me and You. But while it may not hold broader significance, this is a quiet, well formed film, an elegant and unclichéd study of the trials of youth.
Director: Bernardo Bertolucci
Starring: Jacopo Olmo Antinori, Tea Falco
On at: Cinema City Cotroceni (Saturday 21 September, 14.50, Sunday 22 September 14.50)