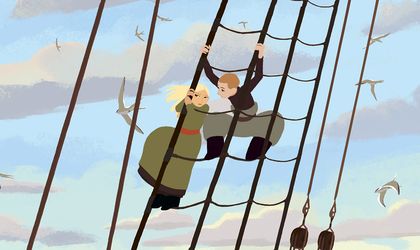 Poor Sasha. First her beloved explorer grandfather disappears on an Arctic expedition; now his reputation is being traduced by jealous rivals. And to top it all, her parents are trying to marry her off to an obnoxious fellow Russian aristocrat. What's a girl to do?
Debbie Stowe
Rémi Chayé's beautifully realized animation shows us what she does. Set in 1892, the story starts off in St Petersburg, before moving (it's not a spoiler) a Long Way North, as Sasha steps out of her comfort zone to try and restore her grandfather's reputation.
Eschewing newfangled techniques, Long Way North sticks with old-school animation, an appropriate medium for this elegantly old-fashioned quest tale. Despite – or perhaps because of – its simplicity, the result is visually effecting, with Sasha's hair wafting in a sea breeze or a blizzard scene more captivating images than they would be in a live-action film.
Understandably for a cartoon, Chayé's characters are rather one-dimensional, and the story a conventional and unsurprising one. But it's told with charm and wit.
After her headstrong insistence that her grandfather's final voyage has been misrepresented causes ructions in St Petersburg high society, Sasha argues with her gruff father and runs away to prove her theory. Having been raised in a gilded Russian cage, she must learn to support herself and whom to trust – as well as how to get along with members of the proletariat. Oh, the horror!
There's some nice humor: "what a perfect match" comments one character as Sasha walks arm in arm with the moody bigwig her parents are trying to set her up with – who is almost twice her height. The soundtrack, which features some synthy pop as well as more traditional scoring, is also well judged.
Locally, the original French-language dialog has been dubbed, but non Romanian-speakers will still get the gist of the plot. Children will also enjoy the story, which is told in a succinct 81 minutes.
Director: Rémi Chayé
On at: Glendale Studio, Grand Cinema & More, Cine Grand Titan, Movieplex Cinema Plaza, Cinema City Cotroceni, Cinema City Sun Plaza, Cinema City Mega Mall