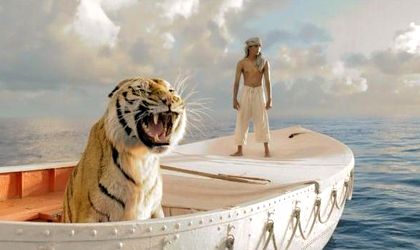 One major apprehension when going to see a film based on a book is that the filmmaker will maul the script beyond recognition and chop up all the characters one gets to know and love.
In the case of Life of Pi, made after the eponymous book written by Yann Martel, this is one worry less because the film follows the book rather thoroughly.
Ang Lee, whom many may remember as the director of Brokeback Mountain or Crouching Tiger, Hidden Dragon, worked his way up from challenge to challenge, gaining a reputation as a filmmaker of subtlety and great sensitivity. Before he agreed to get involved in the project, other directors had been in talks, including M. Night Shyamalan, only to abandon ship later.
In the case of Life of Pi, which received 11 Oscar nods, including the Best Picture, Directing, Visual Effects and Writing – Adapted Screenplay categories, the challenge was to bring to the big screen a story that was until then considered "unfilmable" for more reasons than one.

After extensive search, the director decided on casting the 17-year-old Suraj Sharma for the lead role. Not only was he not a professional actor, but the Indian teenager did not even know how to swim at that time.
Shooting a 3D film for the first time is a challenge for any director, but shooting a 3D film where most of the action takes place on water is in a whole new league.
Even more, making the 450-pound tiger Richard Parker appear believable on the screen using CGI animation was also a daunting task. For all these reasons, The Life of Pi was shelved for years before Ang Lee came in the picture.
The second son of a family who manages a zoo in India, Pi (Suraj Sharma) was named after a French swimming pool (piscine) but changes his name to Pi because of the constant ironies he got from children his age. "With one word, my name went from an elegant French swimming pool to a stinking Indian latrine – I was pissing everywhere," he recounts.
Growing up, Pi has several encounters with God as depicted in Hinduism, Christianity and Muslim religions. When he becomes a teenager, his family decides to close the zoo, relocate to Canada and sell the animals there.
Embarking on what looks like a modern version of Noah's arc, with all their animals (including a Bengal tiger called Richard Parker), the family will not reach destination.
The ship sinks and Pi is the only one who survives, ending up on a boat together with the tiger, a hyena, an orangutan and a wounded zebra. The film tells Pi's story of survival and his struggle to hold on to his humanity and faith.
In making the film, Lee had assistance from Steve Callahan, a yachtsman whose boat sank and survived for 76 days on a life raft with only meager supplies before being picked up by fishermen in the Carribean. Callahan worked with actor Suraj Sharma to teach him how to act more believable as a shipwreck survivor.
In a review of themercury.com.au, writer Tim Martain says: "What better analogy for our place in the universe than a couple of scared creatures stranded on a precarious life raft in the middle of a vast nothingness?"
I would have to agree and point out that, to its merit, Life of Pi does not fall into the trap of being too patronizing, as do many films that deal with themes such as faith, God, the sense of human existence, though it may not fully deliver on its promise to make one believe in God.
However one may choose to see The Life of Pi- a groundbreaking technical achievement, a riveting visual journey, a story about the fight for survival, the triumph of human endurance or merely a psychological escape for a deeply traumatized individual- the film works on any of those levels. It is all a matter of interpretation. And, as the film goes, isn't it the same with faith?
Life of Pi
Directed by: Ang Lee
Starring: Suraj Sharma, Irrfan Khan, Rafe Spall, Tabu, Adil Hussain, Gérard Depardieu
On at: Cinema City Cotroceni, Cinema City Sun Plaza, Grand Cinema Digiplex, Hollywood Multiplex, Movieplex, The Light
Otilia Haraga