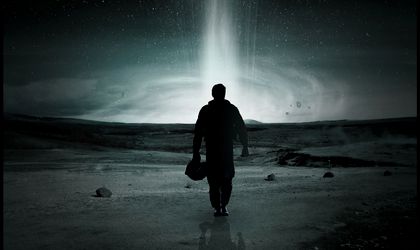 The near future. An unexplained "blight" has turned America into a giant dustbowl and is killing off the crops, one by one. The nation has resorted en masse to farming, to try and stave off impending starvation.
This includes Cooper (Matthew McConaughey), a former engineer and NASA pilot and widowed father to teenager Tom and lil' sis Murph. When the inquiring ten-year-old receives some mysterious map coordinates, Cooper follows them to unearth a top-secret NASA bunker in the desert presided over by Michael Caine (not a lot of people know that), aka Professor Brand, Cooper's old boss. Plans are afoot there to find a new planet to colonize – in another galaxy. This other galaxy will be reached – stay with me – by going through a wormhole that unidentified beings have created in outer space.
If this seems rather complicated, it's not surprising: Interstellar is directed by Christopher Nolan, who brought us other brain bending cinematic conundrums such as Memento and Inception, so "the science bit" is tricky. But don't worry if you don't know your wormhole from your black hole – much of the movie is mainstream blockbuster fare, with a big dollop of schmaltz. Poor old Anne Hathaway gets a nauseatingly sentimental monologue in which "Love is the one thing that transcends time and space" is not the worst line, while Cooper is exhorted to "Get out there and save the world!"
Because it turns out that he is the ideal pilot for the mission – not that anybody from NASA had thought of recruiting him before he blundered into their hidden HQ – and off he blasts into space, along with Brand's daughter Amelia (Hathaway) and two other crewmembers. The movie then follows both Cooper and co's journey through the cosmos and beyond, and events back on earth involving NASA HQ and the pilot's family.
Just ten minutes shy of three hours, Nolan's film is epic in its scope and ambition. It doesn't feel as innovative as Inception (the last non-superhero movie he directed) – some of the space scenes are strikingly similar to last year's Gravity, and as with most solar system-exploring productions with big ideas, comparisons with Stanley Kubrick's seminal 2001: A Space Odyssey are inevitable. But there's still plenty to ponder. Despite the cheese, the script also manages to be witty in places, particularly in the interplay of the crew, which includes two robots with attitude.
As is normal with Nolan, the visuals are outstanding. Although in the floating astronaut scenes much of his thunder was stolen by Gravity director Alfonso Cuarón, images of the colony candidate planets are remarkable, and the stylized geometry of Inception is employed to powerful effect.
Interstellar is not a perfect movie: the "love will save the day" mawkishness sits uneasily alongside the brainier bits. But it's admirable in its ambition and awesome in its effect.
 Debbie Stowe
Director: Christopher Nolan
Starring: Matthew McConaughey, Anne Hathaway, Jessica Chastain, Michael Caine
On at: Cinema City Cotroceni, Cinema City Cotroceni VIP, Cinema City Sun Plaza, Glendale Studio, Grand Cinema Digiplex, Grand Cinema Digiplex Ultra, Grand Cinema Digiplex VIP, Movieplex, Patria, Romtelecom IMAX, The Light Cinema