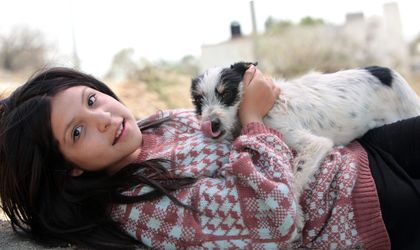 A pick-up truck trundles along a Mexican desert road bearing two bodies, one dead, one apparently not far off. Reaching a bridge, some young men get out, casually unload their human cargo, tie the corpse by the neck, tip it over the bridge and leave it dangling above the street. So ends the opening sequence of Heli – and this is by no means the most harrowing scene in the movie.
Mexico's drug wars have claimed tens of thousands of victims, dead and disappeared. Amat Escalante's deeply disturbing film portrays
the bloody impact of the conflict on one family. It is not for the faint-hearted.
Title character Heli (Armando Espitia) is an ordinary young man, probably not yet in his twenties. Like most of us, he is just trying to live a quiet and decent life with his family, his young wife (Linda González) and baby, apparently bereaved father (Ramón Álvarez) and rebellious younger sister Estela (Andrea Vergara). He has the usual mundane problems – some money worries, the stresses of parenthood and his sister's unsuitable older boyfriend Beto (Juan Eduardo Palacios). But Heli's previous troubles are as nothing when his family unwittingly gets on the wrong side of one of Mexico's feuding drug cartels.
The film is unflinching in its depiction of the gang's retribution. But what is even more shocking is the juxtaposition of brutality and banality, as the director makes the point that while what we are witnessing is extreme and horrific, it is also utterly commonplace, banal even, across Mexico's drugs turf. Most of the men meting out the violence are not trained killers, but simple Joe Schmoes, tracksuit-clad schmucks who slaughter as if they were flipping burgers.
In the film's most gruesome sequence – and there is fierce competition for that title – gut-wrenching torture is performed on the hapless victims in a family living room while three young boys play idly on a Wii – and are encouraged to join in the beatings – and a woman indifferently makes tea in the background. "What did this one do?" asks one boy. "Who knows?" comes the reply. Getting justice is a forlorn hope.
In this bleak context, it is astonishing that the movie manages to find some humor, such as when Beto attempts to impress Estela with his muscles by turning her into a human dumbbell. It is also remarkable that the director manages to sound a note of optimism, that whatever suffering the characters have endured, their family bonds somehow survive. But it is not much to cling to amid the sickening impression the film leaves.
Heli is an unforgettable work – much though you might wish to forget parts of it. It should be required viewing for anyone who purchases cocaine, laying bare the consequences that demand for narcotics has on communities in the supply country. Escalante tells his story calmly, with serene shots of the Mexican plains belying the carnage being wreaked in their undistinguished homes and outhouses. The use of non-professional actors adds to the verisimilitude of Heli's journey into hell.
Director: Amat Escalante
Starring: Armando Espitia, Andrea Vergara, Linda González, Juan Eduardo Palacios
On at:  CinemaCity Cotroceni, Grand Cinema Digiplex, Hollywood Multiplex. Movieplex, Patria, Studio
debbie.stowe@business-review.ro