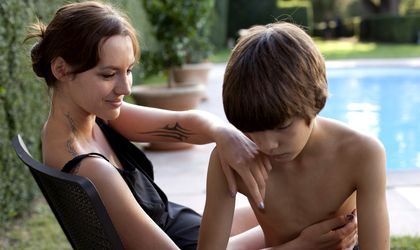 By Debbie Stowe
"The English talk about the weather; the French talk about their lives," complains one character in Going Away, after a bad-tempered family exchange over lunch. Well, of course we do: weather chitchat is nice, easy and inoffensive, while the messy business of lives is much more dangerous conversational territory.
Messy lives are the focus here – if this drifting, atmospheric French film can be said to have anything as honed as a focus. The chief drifter is Baptiste (Pierre Rochefort), an itinerant supply teacher who spends short stints in schools before moving on. Despite being well liked by fellow staff and pupils, he's resistant to taking a permanent job, for reasons that a prologue suggests may have to do with a troubled background.
When the parents of Mathias (Mathias Brezot), one of his pupils, fail to collect their son from school, Baptiste abandons his usual reticence and gets involved with the boy's family. Mother Sandra's troubles (Louise Bourgoin) are of a different kind from Baptiste's own – she's trying to avoid a couple of heavies after a business deal went sour, leaving her in debt – but mother, son and teacher slowly begin to bond.
There are periods of tension in the movie – Sandra's encounters with the thugs and a few outbreaks of moderate violence – but the general idea is lost souls hazily coming together and trying to heal in impressionistic scenes that seem to keep back as much as they reveal.
This is partly owing to the deftly understated performances of the two leads, Rochefort and Bourgoin. Pain, regret, awkwardness, fear and sorrow are conveyed subtly, hinting at rather than playing up the characters' dysfunctional back stories. The camera often lingers on their near-inscrutable faces, leaving the viewer to surmise the inner turmoil.
Director Nicole Garcia avoids making trite comparisons and judgments: Baptiste's wealthy family are largely depicted as aloof and materialistic, but working-class Sandra is not idealized as a salt-of-the-earth, more "real" opposite.
Although it is made clear that the main couple come from different sides of the tracks, Going Away isn't about relationships that cross the class divide. It's hard to say what it is actually about, so distant does Garcia remain from her characters. The plot is also slight, with style, atmosphere and snatched moments taking precedence over drive and narrative thrust.
What holds the viewer, then, is the strength of the acting, the director's eye for human failings – Baptiste's relatives and Mathias's father and his new partner come off as particularly unlikeable – and the settings against which events are played out. The beachside café where Sandra works as a waitress has a simple beauty that somehow suggests the sadness of life – perhaps because of the implicit contrast with the ugliness of human flaws – while Baptiste's family home is also poignantly evocative for reasons that are hard to define.
These striking aesthetics combined with the attractiveness of the two leads (few supply teachers were ever as hot as Baptiste) sometimes give Going Away the feel of a downbeat, cerebral pop video – very impressionistic and very French.
Director: Nicole Garcia
Starring: Louise Bourgoin, Pierre Rochefort, Cambiere Dominique Sanda, Deborah Francois
On at: Grand Cinema Digiplex, Cinemateca Union