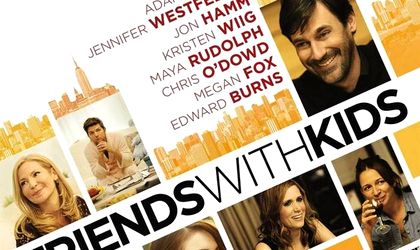 A frightening time, one's thirties. Either you have kids, and the restaurants and romance are sacrificed on the altar of diapers and dungarees. Or you don't have kids and your friends who do are boring you to tears with baby talk and don't want to go out and do fun stuff anymore. Or maybe you haven't found "the one" yet and the clock is ticking…
Such are the various lots of the titular friends. At the start of the film the six childless Manhattanites are living it up, exchanging witty and emotionally literate banter in trendy Upper West Sideeateries. But their fun, adult lives and bathroom quickies are ruined when the kids start coming along. Suddenly it's only best friends Jason and Julie (Adam Scott and Jennifer Westfeldt) left sans sprog and their pals' previously enviable marriages are on the fast track to dullsville.
Wouldn't it be great, muse Jase and Jules, if you could have a kid with someone you trust and love platonically, split all the parenting, and then get back on the dating scene without the pressure of the biological clock? Also, Julie is that most tragic Hollywood creature, a single, childless woman in her late thirties, and time is running out. So Jason and Julie do the deed, and the film explores the consequences of their modern family unit and unconventional life choices.
It's an interesting premise, and until the end, which returns to more conventional romcom territory, FWK makes a good fist of considering the dilemmas, both typical and atypical, that face formerly vivacious and career-minded people who suddenly find themselves staring down the barrel of middle age and dealing with the shock that they are no longer 22. An independent film, it was written, produced and directed by the star, Jennifer Westfeldt, and definitely feels more personal and considered than the usual studio output.
Not that it avoids allHollywoodcliché. When normal people's lives are in meltdown, we might weep, pyjama-clad, into our cereal in our poky flats. When the Friends with Kids' lives are in meltdown, it happens in Dior in duplexes, or in swanky uptown restaurants, or inVermontlog cabins. Even when the kids mean they have to move out to Brooklyn (oh, the horror!) their toy-strewn brownstones are still like show homes. And you can probably write the final scene within the first few minutes of the movie.
But that aside, FWK is an engaging, thoughtful picture, helped by a lively script and believable performances from the six leads. It deals with issues that many viewers have, are or will confront, and serves as an intriguing what if…?
Director: Jennifer Westfeldt
Starring: Adam Scott, Jennifer Westfeldt, Jon Hamm, Kristen Wiig, Maya Rudolph, Chris O'Dowd, Megan Fox, Edward Burns
On at: Cinema City Cotroceni, Cinema City Sun Plaza, Grand Cinema Digiplex Baneasa, Hollywood Multiplex, Movieplex Cinema
DEBBIE STOWE