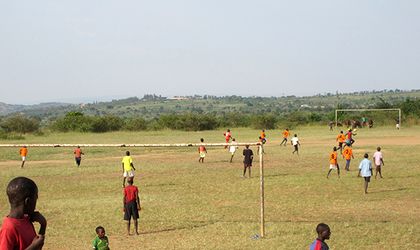 Directors François-Xavier Destors and Marie Thomas-Penette tell the history of Rwanda through football, since the first manifestation of this sport up until present, with a focus on the events that happened in 1994: the genocide. This film explores football as a way to heal the country with the support of the former goalkeeper of the Rwandan national football team Eugène Murangwa in the aftermath of the 1994 genocide.
For Eugène Murangwa, 1994 genocide means the loss of 17 family members and also his chance to life, while he was protected by his former team players.
The project was made in four years in collaboration with Dream Team Football Academy and FHPU project, and many other youth led football groups all around Rwanda. The film has given a platform to many former football players to speak about how football created acts of solidarity throughout the country's history; the film raises the question of a possible reconstruction of Rwandan society through football.
The movie neither presents scenes from the genocide nor any political implication, but focuses on the commemoration day of what happened twenty years ago, presenting nowadays teenagers football players in contrast with those from Murangwa generation. Surprisingly, children of Rwanda does not know or learn about what happened in 1994 – they are confused and mix information with other political issues that Rwanda had during times.
Currently, Murangwa has built a foundation and with the support of his former team players, tries to continue the healing process for his country, giving children the possibility to learn their country's history.
The film was screened during Rasnov Historical Film Festival. The themes of this sixth run are the Great War, 1989 – was it or wasn't it? and Los Angeles 1984. Over 40 documentaries and fiction films, historical debates and witness testimonies, interviews with actors and directors, concerts and book presentations will take place.
The film festival is taking place between August 1-10, in Rasnov Citadel, Brasov County. More information about the festival, here.
Oana Vasiliu