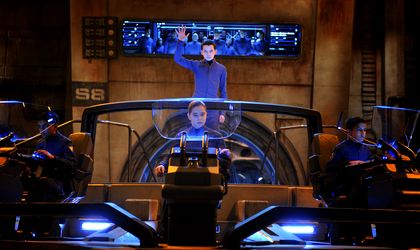 It is a time of WAR! Just one man… Well, just one boy, actually, because Ender, on whom the survival of our species depends, is only 12. More than a century hence, and Earth is fearful of another alien attack by the Formics. A program has been started that finds child geniuses and grooms them to be ruthless military leaders. It sounds sinister, but it can't be, because Harrison Ford is in charge and he has Viola Davis looking over his shoulder.
Their great hope is shy Ender, and there is a lot of Matrix-style talk about whether he is The One. But Ender s quickly rises through the ranks of Battle School, which is something like a space-based Hogwarts. The premise is science fiction, but the movie is essentially a teen drama, concerned with standard coming-of-age matters such as dealing with bullies, coming out of one's shell and earning the acceptance of one's peers.
There are some colorful supporting characters whom Ender rubs up the wrong way as he earns his spurs in Battle School, notably Nonso Asorie as an academy sergeant whose bark is worse than his bite, and Moises Arias as a diminutive commander who tries to sabotage Ender's ascent.
Sci-fi films often tackle current issues, such as Minority Report with criminal profiling and The Matrix with free will. Ender's Game's cause is environmentalism and our relationship with the planet – and boy, don't we know it. The film's plea for tolerance is delivered with all the subtlety of a wallop over the head with a Save the Planet placard.
There is a mature performance by Asa Butterfield, with shades of Harry Potter and Haley Joel Osment, and the default gravitas brought by Ford and Davis as the good cop-bad cop duo debating how much responsibility should be placed on Ender's young shoulders. Ben "call me Sir" Kingsley also pops up as a past master warrior who serves as Ender's mentor.
The film has nothing new to say, and does not stand out among a slew of fairly recent sci-fi flicks with environmental themes, such as Avatar and Wall-E, while Hollywood's latest forays into space, the likes of Oblivion and Gravity, are more interesting on that score. Teens looking for Harry Potter in the cosmos will be well served, though.
Director: Gavin Hood
Starring: Asa Butterfield, Harrison Ford, Ben Kingsley, Viola Davis
On at:  Cinema City Cotroceni and Sun Plaza, Glendale Studio, Grand Cinema Digiplex, Holywood Multiplex, Movieplex, The Light
debbie.stowe@business-review.ro