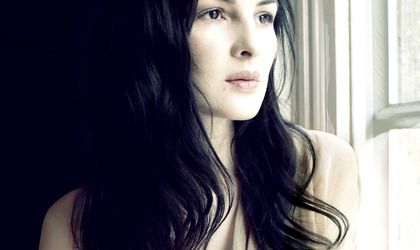 Love troubles, the "grass is always greener" syndrome and the unreliability of memory are the focus of this quirky drama from Romanian director Dan Chisu. It's shot from the point of view of wealthy fifty-something Mihai, who has left his wife for a younger woman he's just moved into the former marital home. And the viewer sees events literally from his point of view – the camera takes the place of Mihai's eyes, so other characters address the lens directly, and all we see of the protagonist are his hands and legs.
Debbie Stowe 
By most people's standards, Mihai has much to be thankful for. He has all the trappings of success: a swanky house in a posh part of Bucharest, a waterside holiday home on the outskirts of town, an ego-boosting SUV, and he has found love again with an attractive partner.
But of course he's not thankful. Girlfriend Tania (Ioana Flora – pictured) is already getting on his nerves. Partly this is because Mihai is set in his ways and snobbish, moaning at Tania because she has made him Turkish style coffee, rather than using a filter, Italian style, the way he likes it. But it's also because Tania is childish, passive-aggressive and needy – complaining that she doesn't like the thought of taking a shower where Mihai's estranged wife used to shower – and becoming a less enticing prospect now that the excitement of their two-year affair has given way to the humdrum reality of a proper relationship.
Mihai can't help but compare Tania unfavorably with his estranged wife Valeria (Mirela Oprisor), a minor celebrity who appears on posters around the city. She is depicted through halcyon flashbacks in which he daydreams of her in the place of his new love – but the scenes are so cheesy and clichéd that the viewer is invited to question Mihai's memory: why would he have left Valeria for his highly-strung new squeeze if she was this perfect and he was so happy with her?
Aside from the idiosyncrasy of the camera positioning, there's a sense of déjà vu with the cinematography here too, which bears many of the hallmarks of Romanian New Wave: long uninterrupted takes, a meandering plot with a focus on dialogue rather than action, and a dour, realistic style. The most obvious narrative parallels are with Corneliu Porumboiu's recent When Evening Falls on Bucharest or Metabolism, while also featured an uneasy couple driving around town talking and smoking.
There's also the stock Romanian figure of the controlling matriarch, not as sinister as the one in Calin Peter Netzer's Child's Pose, but still hinting strongly at the infantilization that might have set Mihai on the course for the personal problems he's now mired in.
But the final part of the film suddenly diverts from the New Wave formula, with genuine drama and humor, and delivers a twist to relish. Be careful what you wish for.
Director: Dan Chisu
Starring: Ioana Flora, Mirela Oprisor
On at: Cinema City Cotroceni, Cinema City Sun Plaza, NCRR