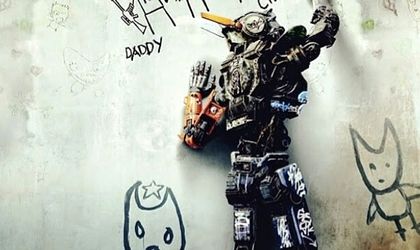 District 9, Neill Blomkamp's debut feature, was a blistering sci-fi exposition of apartheid, using prawn-like aliens. It was funny, sad, visceral and thought-provoking. After his disappointing follow-up Elysium, the South African director is back on form with Chappie, this time using robots to investigate themes as diverse as artificial intelligence, what makes us human, parenting and policing.
IT geek Deon (Slumdog Millionaire's Dev Patel) has designed a near indestructible armor-plated crime-fighting robot, dozens of which are deployed on the mean streets of Johannesburg sticking it to the scum. Deon is subsequently the darling of his weapons manufacturer boss Michelle Bradley (an underused Sigourney Weaver) but his success has made him the target of embittered coworker Vincent (Hugh Jackman), whose own more destructive robot is getting overlooked.
But Deon has a poet's soul, and dreams of developing an android that can think more like a human being, with its own personality. When these ambitions are vetoed by Bradley, Deon continues his experiments outside the office on a damaged robot that was set to be destroyed, nicknamed Chappie (Sharlto Copley). But the engineer's hopes are hijacked when he falls into the clutches of a desperate criminal gang. Who may turn out to be less of a problem than scheming colleague Vincent…
As in District 9, Blomkamp uses the outsider – there the alien, here the robot – to examine human behavior: prejudice against those who look different, cruelty, lies, loyalty and love. There is genuine pathos as naïve Chappie, starting effectively like a baby with zero knowledge, learns to navigate the dangerous outside world.
There is also hilarity, as the impressionable robot apes the swearing and criminal slang of the felons and attempts the "pimp roll" (the swaggering gangster gait) – all to the despair of Deon who is trying to develop his creation's more sensitive, artistic side. These scenes are funny and sweet, reminiscent of 1986's Short Circuit.
Blomkamp's trademark visuals abound: he and his cinematography team are superb at depicting lawless urban blight, and their crime-ridden Jo'burg has a smoldering Mad Max aspect to it. He also employs the swerving, shaky camerawork and choppy editing that added to the unsettling dynamism of his previous works.
The cast is split between the international household names of Patel, Weaver and Jackman and lesser known South Africans – Copley in the title role and the rap-rave duo Die Antwoord (Ninja and Yolandi Visser) as the crooks leading poor Chappie astray. While the musicians' raw acting style initially jars, their cyber-punk presence adds to the quirkiness and color of the movie.
Despite its offbeat look, Chappie has a mainstream Hollywood core, and the director builds the tension effectively towards the end, rounding off with a nice final flourish. Its ideas may not be original – one major theme was covered extensively and more probingly in last year's Transcendence with Johnny Depp. But its brio, big heart, humor, poignancy and suspense are a winning mix, and you may find yourself rooting more for Chappie than the average human hero.
Debbie Stowe
Director: Neill Blomkamp
Starring: Sharlto Copley, Dev Patel, Hugh Jackman, Sigourney Weaver
On at: Glendale Studio, Patria, Grand Cinema & More, Cine Grand Titan, Hollywood Multiplex, Movieplex Cinema Plaza, Cinema City Cotroceni, Cinema City Sun Plaza, The Light Cinema