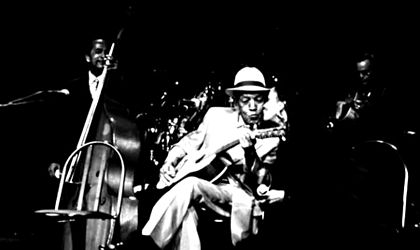 From shining shoes to playing a sell-out Carnegie Hall concert is some career trajectory – and one that neatly sums up the musical phenomenon that is the Buena Vista Social Club. Originally a Havana members' venue, where performers would gather in the 1940s for dances and jam sessions, the club was long forgotten and the musicians disappeared into obscurity.
Then, in the 1990s, US guitarist Ry Cooder set about regrouping the performers – all well into their dotage – for a new album and concert, with German filmmaker Wim Wenders documenting the project.
The result is a romantic homage to the music of Cuba. Most of the film is given over to renditions (not that kind, we're not in Gitmo) of Latin, salsa, bolero and other lilting Caribbean rhythms – both in Havana rehearsals and the international shows that the ensemble would go on to perform. If this genre is not your glass of rum, then you won't find much to savor here.
In between the songs, the main performers are interviewed about their origins and how they came to be involved in music. X Factor this is not. Bolero singer Ibrahim Ferrer turned to busking to earn a living after being orphaned at 12. He had abandoned music and was shining shoes when the band was reformed.
Wenders is not concerned with the genesis or logistics of the project. There are no scenes of stunned and tearful octogenarians being told they're going to Europe or New York for the first time. The work is more of a portrait – both of the musicians themselves and of where they come from. The director sends his camera on a languid drive through the streets of Havana. A closed-off country, Cuba's street life is history preserved in its vintage cars, panama hats and roadside games of checkers, against the pastel shades of its colonial and art deco architecture. Of course, we get workers hand rolling cigars.
It's an idyllic visual and aural depiction of a far from idyllic place – the songs noticeably stick to innocent themes like dreaming about girls, flowers and the beach, never straying into controversy. But Wenders's remit is artistic, not political.
His documentary's most moving scenes come towards the end, when the band goes to New York for the Carnegie Hall show. The members' travel experience is limited, and some are touchingly overawed by the Big Apple; Ferrer stares agog at the ranks of skyscrapers and shimmering lights whispering "lovely, lovely, lovely, lovely…"
It's impossible not to be touched by the bemused joie de vivre of these old-timers, enjoying their unexpected last hurrah. Pushing 90, Compay Segundo says that he has five children and hasn't given up on having a sixth. Singers Pio Leyva and Puntillita have to be dragged away from a tightly balanced dominos series for rehearsals. "You might be the best singer. But at dominoes, I'm the best," boasts Leyva, before they are cajoled into the studio.
Buena Vista Social Club is being shown as part of HipTrip (23-25 May), Romania's first travel film festival. For the full program, visit hiptrip.ro.
Director: Wim Wenders
Starring: Ry Cooder, Ibrahim Ferrer, Compay Segundo, Ruben Gonzalez
Friday 23 May, 19.00, Sala Union