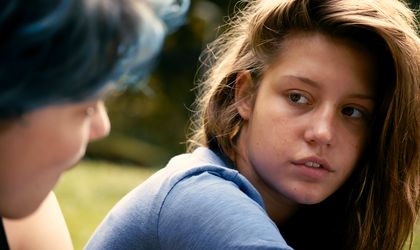 A three-hour film about French lesbians sounds like a Guardian cliché (a right-on British broadsheet). But let me allay any fears you might harbor about having the patience for such a worthy-sounding project: as the 179th minute of running time clocked round, not only did I not feel it had gone on for too long, but I wanted it to continue, to tell me the next chapter in Adele's searing story.
Blue Is the Warmest Colour does not really feel like a movie; it feels like taking a slow walk through Adele's life. This is deft, confident filmmaking, that gives a shrug of Gallic contempt for cinema convention and pushes on in presenting fully fleshed out characters.
Too much flesh – some have said. Protracted and graphic sex scenes have laid director Abdellatif Kechiche open to charges of exploitation and voyeurism – including from his own cast and crew. It is true that these sequences go on longer than necessary, and while they are at one with the director's uncompromising approach and sprawling narrative, they do border on the gratuitous and could easily have been edited down with no harmful effect on the movie.
The second major criticism that has been made is that Blue Is the Warmest Colour presents a heterosexual male's version of same-sex relationships. Again, there is some truth in the claim: this is certainly cellulite-free lesbianism, firmly focused on the young and nubile.
But these two caveats cannot detract from what is an accomplished, absorbing picture, ambitious in scope, honest and probing in its depiction of relationships, both sexual and social, and intense in its impact.
The story opens with teenager Adele (Adele Exarchopoulos) in high school, sneaking a crafty fag on the school stairs and confusedly working her way through the usual adolescent fumblings. But it all changes when she meets blue-haired arts student Emma (Lea Seydoux), after a male friend takes her to a local gay bar. We then follow their changing relationship over several years.
Kechiche is adept at signaling early on the class differences that will manifest further down the line. In twin "meet the parents" scenes, Emma's bourgeois mother and step-father – fully aware and supportive of their daughter's sexuality – serve oysters and show Adele their modern art collection, before lauding the value of a cultural life. Meanwhile, the lower middle-class parents of still-in-the-closet Adele dish up humble spag bol with the telly on, ask what Emma's "boyfriend" does and lecture her on the importance of earning a living if one wishes to mess about being an artist.
From the rush of young love to the trials and tedium of living together and conflicting values, Blue Is the Warmest Colour is not a "lesbian film", but will resonate with anyone in a long-term relationship, chronicling love's highs and lows with candor. It's a beautiful work, involving and evolving, rich in detail, flawlessly acted and hugely rewarding.
Director: Abdellatif Kechiche
Starring: Adele Exarchopoulos, Lea Seydoux, Jeremie Laheurte, Catherine Salee, Aurélien Recoing, Sandor Funtek
On at: Cinema Elvira Popescu (French Institute)
debbie.stowe@business-review.ro