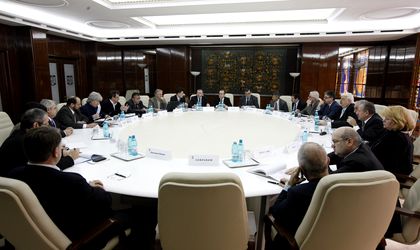 The Foreign Investors Council (FIC) laid out last week a series of changes in the management of public institutions that it believes could help the country attract foreign investments and create new jobs, during a tough period for European bloc economies.
The themes, which were proposed by the Public Institutions' Management Task Force, address various topics such as the increase of transparency in the lawmaking process and the acceleration in appointing private mangers and independent boards to state-owned enterprises. The FIC argues that Romania should change the legislative framework only if this is necessary to provide the country with enough stability to attract foreign investors.
"For foreign companies that invest in Romania the main condition for a sustainable business environment is interaction and transparent collaboration between government and economic players," said Pascal Prigent, FIC board member and general director of GSK Romania.
Romania has many investments underway, but few are completed each year, such as in the case of highways, so a government unit should be set up to prioritize investments. In addition, a committee should be put in place to monitor the implementation progress of economic measures. The FIC argues that this would make the authorities more accountable and could speed up the delivery of major projects needed for the economy.
"Improving the performance of public institutions can play a key role in the decision to invest in Romania and in attracting additional foreign investments," said Mihai Bogza, FIC board member and president of the administration board at Bancpost.
Investors are calling for a separation between the various roles of the state. A clear difference has to be made in the case of state-owned enterprises (SOEs), where the roles of shareholder and lawmaker are mixed. This raises uncertainties for investors and creates market distortions, according to FIC representatives.
Romania is pursuing an ambitious privatization program under a EUR 5 billion agreement with the IMF, World Bank and European Commission, and is planning to sell minority stakes in some energy firms and fully privatize other SOEs.
FIC representatives said the privatization should be done through public offerings on the Bucharest Stock Exchange. This is the best method for price discovery and would make the whole privatization more transparent.
Other proposals referred to the approval of a holding law and the development of the covered bonds market.
The FIC currently has 123 multinational companies as members, which have created over 200,000 direct and indirect jobs in Romania. The association has nine task forces that make policy proposals in the main sectors of the local economy.
Ovidiu Posirca