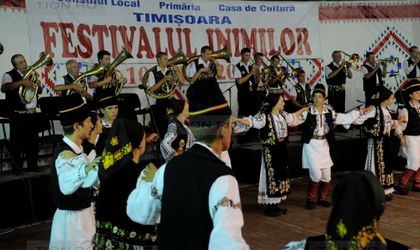 Over 1,200 participants from 14 countries are expected in Timisoara between July 8 and 12, for the "Festival of Hearts". This will be the 26th edition of the first Romanian festival to be included in the UNESCO calendar, informs a Timisoara City Hall press release.
The festival will be attended by folk ensembles from 14 countries, totalling over 1,200 participants who will dance to folk music at the Summer Theatre in the Park of Roses in Timisoara. The ensembles participating are from Bulgaria, Colombia, Georgia, Macedonia, Mexico, Moldova, Russia, Serbia, Spain, Slovakia, USA, Turkey, Hungary and Romania.
The shows will begin on Wednesday at 19:30, and will end on Sunday. Thursday, at 18.30, participants will lay wreaths in front of the Metropolitan Cathedral, and then will present a parade of folk costumes which will be held in Victoria Square in Timisoara.
On Sunday morning, the dance bands will hold performances at the Banat Village Museum and the evening will end at the Park of Roses where ensembles from Serbia, Romania, Moldova, Turkey and Georgia will take the stage.
Entrance to all the shows is free.
The event is intended as a tribute to the heroes of the 1989 revolution in Timisoara.
Natalia Martian