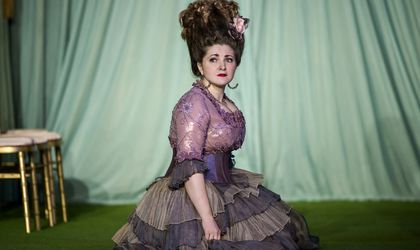 On February 27, the Bucharest National Opera is hosting the premiere of the opera Cosi fan tutte (Thus Do They All) by Wolfgang Amadeus Mozart.  The Italian opera buffa in two acts and with libretto by Lorenzo da Ponte, is a co-production between the Bucharest National Opera House and the Garsington Opera.
Directed by John Fulljames and with a choreography signed by Tim Claydon, the Opera's premiere plays its cynicism for laughs with its sharply satirical take on relationships between men and women.
The premiere will include singer Andreea Soare (playing Fiordiligi), a soprano who was also in the Garsington Opera distribution and who has frequently collaborated with the National Opera of Paris. The event will take place under the baton of Adrian Morar.
"First I was attracted by the music of Mozart, which precisely captures the emotional vortex in which the four lovers are caught, as they discover first love and become powerless in the face of forces which they can not control. In addition, I am drawn to the magic jumps that this opera takes from its formality. In a fully symmetrical form, the forces of hazard are unleashed. Therefore we see that symmetry is only a façade, a pretense, and below there is something dark, disorderly," says director John Fulljames.
John Fulljames is associate director at the Royal Opera House "Covent Garden" in London and was a co-founder and artistic director of The Opera Group. Among his recent productions are included "The Rise and Fall of the Mahagonny City" by Kurt Weill and Bertolt Brecht, "Orpheus and Euridice" by C. W. Gluck, "La donna del lago" by Gioachino Rossini; "Nabucco" by Giuseppe Verdi; "Quartet" by Luca Francesconi; "Juliette ou la Cle des Songes" by Bohuslav Martinu; "La clemenza di Tito" by Wolfgang Amadeus Mozart.
The distribution of February 28:
Fiordiligi – Simona Neagu
Dorabella – Maria Jinga
Ferrando – Andrei Lazar
Guglielmo – Daniel Filipescu
Despina – Florina Ilie
Don Alfonso – Iustinian Zetea
The next representations of the show will follow on February 28 and April 7.
Oana Vasiliu, Natalia Martian