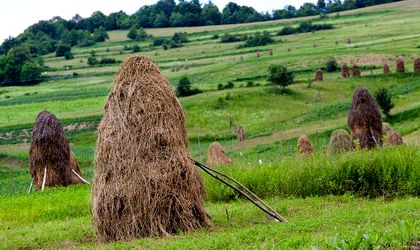 Average farmland prices have almost tripled in Romania since 2007, and not only is the rise showing no signs of abating, but it hasn't sated investors' appetite either. The January 1 liberalization will further boost demand, but how easy it will be for locals and foreigners alike to buy Romanian farmland depends on the way the future law regulating sales is implemented.
No restrictions are currently in place for non-resident EU citizens looking to buy farmland in Romania as individuals, since the January 1 liberalization deadline, stipulated by Romania's Treaty of Accession to the EU, kicked in and president Traian Basescu sent back to Parliament for reexamination a draft bill regulating the sale and purchase of farmland by individuals.
With at least one month until the modified bill could become law, during which time foreign individuals will have the same rights as locals to purchase agricultural land, the topic has reignited public debate over the acquisition of farmland by foreigners. Given that land prices continue to be much lower in Romania than throughout the rest of the EU, local farmers complain they will face unfair competition from international players who have far greater financial power. Many fear massive land acquisitions by foreigners and the topic has even prompted nationalistic concerns after news emerged that Hungary is allegedly preparing a bid to buy land in Transylvania.
The draft bill proposed at the 11th hour by the Romanian Ministry of Agriculture and Rural Development to regulate the sale and purchase of farmland by individuals from 2014 stipulates that co-owners, tenants, neighbors and individuals involved in farming activities in the locality where farmland is for sale and the state will have preemption rights to purchase land that is up for sale. This was the final version of a draft that had initially proposed much stricter conditions on those looking to buy farmland in Romania, be they locals or foreigners. Under the initial draft, the ownership of farmland was to be limited to 100 hectares and interested buyers had to prove they had a background in farming and agricultural know-how. The bill was criticized by legal experts who argued that if passed into law, it would have blocked the market.
President Basescu objected to several unclear aspects in the last version of the draft bill as well as in the setting up of a national agency for the management and regulation of the land market which would approve transactions and have preemption rights to purchase land ahead of foreign individuals. Last week, the president added that the law should be drafted to allow foreign companies and individuals to buy Romanian farmland under the same conditions that Romanians can buy farmland elsewhere in the EU.
What should the law look like?
"We also believe that there are aspects of the bill on farmland that must be clarified before it is passed into law in order to avoid future difficulties in applying it," Larisa Popoviciu, senior associate at Zamfirescu Racoti & Partners, told BR.
For example, the draft bill gives tenants a preemption right to buy land the owners put up for sale, but under existing regulations this already applies, regardless of tenants' nationality.
In terms of drafting the law so that it affords local farmers an edge over foreign competition, giving certain individuals a preemption right is a welcome measure, thinks Popoviciu. "Given the categories included in the bill that would benefit from legal preemption, one can say that the interests of local farmers are protected by these measures," she said, calling for the procedures pertaining to this right to be as clear and transparent as possible so that they don't make transactions unnecessarily difficult to carry out. The government could also support local farmers by coming up with state-guaranteed loan schemes and other similar measures.
Other EU countries have imposed similar regulations, each member state negotiating during the accession process specific conditions under which farmland can be bought and worked by foreigners. In countries such as France, Germany and Sweden, transactions involving farmland have to be approved by governmental institutions while in Hungary and Lithuania there are limitations on the surface that can be bought, according to Popoviciu. Poland has negotiated an extension to the liberalization deadline until 2016, while neighboring Bulgaria has taken steps to do the same to 2020 despite the fact that it doesn't have the European Commission's approval and is thereby risking sanctions.
"One can see that there is no common approach across the member states and there is more than one way to tackle this. Whatever the measures the Romanian state chooses to implement – be they making it mandatory for transactions to be approved by the authority or offering legal preemption to certain categories – these procedures must be carried out in a transparent manner and within a reasonable timeframe so that it doesn't unnecessarily block the market," she added.
One thing is for sure, concerns over massive farmland acquisitions by foreigners starting this year are often exaggerated, say pundits. Even prior to this date, foreign investors were able to, and many did, circumvent the legislative restrictions by purchasing land through locally registered companies. Some 8.5 percent of the country's arable farmland is estimated to be already controlled by foreigners, according to official data.
What's the price tag?
Local farmland has been an attractive investment for both locals and foreigners for several years now and will continue to be so despite rising prices and setbacks such as land fragmentation and the challenging acquisition process, pundits say. On the upside, prices are still well below the EU average, there are large surfaces of available land, albeit highly fragmented, and there is also the good quality of the soil to consider.
For these reasons, interest in buying local farmland remains high, regardless of the liberalization, say market representatives. Indeed, there has been no spike in demand as a direct consequence of the January 1 liberalization as many players have invested in acquisition by setting up local companies, Razvan Iorgu, managing director at CBRE Romania, told BR.
Local companies controlled by foreigners already own an estimated 1 million hectares of farmland in Romania and many of these companies have been present in Romania for more than ten years, Flavius Pop, consultant in the investments department of DTZ Echinox, told BR. "The lifting of restrictions will not trigger a price explosion or a significant increase in the number of transactions," he said.
At present, the price per hectare varies considerably, from under EUR 1,000 to as much as EUR 6,000 – EUR 8,000, according to Iorgu. The difference is mainly attributable to soil quality, surface, geographical area and the plot's current state, added the MD.
DTZ estimates that average prices will grow by between 10 and 15 percent this year to reach about EUR 3,500-EUR 4,000 per hectare by 2015.
Average farmland prices have almost tripled in Romania since 2007, according to a DTZ report. Even so, they remain well below levels reported elsewhere in the EU – about EUR 24,000 per hectare in the UK and Belgium, between EUR 15,000 and EUR 16,000 in Italy and as much as EUR 30,000 in Denmark.
Simona Bazavan