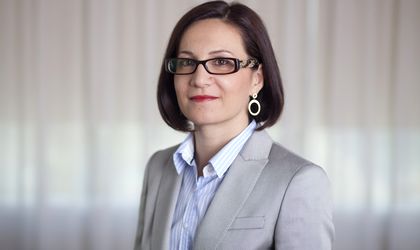 Mariana Suciu, the general director of Romexpo, tells BR what's new at the 18th annual INDAGRA international agricultural trade fair this year and how many visitors it hopes to attract.
By Simona Bazavan
What's new at this year's event?
Those who come to INDAGRA will see technologies and equipment for irrigation, farming equipment, greenhouses and solariums, seeds, flower bulbs, fertilizers, bred birds, cattle, sheep and horse exhibitions, as well as demonstrations and contests.
Among the highlights of this year's event will be next-generation farming equipment – for example a fully computerized 275 hp tractor which can cost as much as EUR 150,000 – high-value livestock and rare specimens, carriage rides, open-outcry livestock auctions, integrated products and applications for milk producers, complete systems for pig farms, veterinary products for all types of livestock, the latest in the design and production of storage facilities, combined feed mills and seed selection systems and solutions in the field of fertilizers.
How has the INDAGRA trade fair evolved over recent years?
INDAGRA – the international trade fair of equipment and products in agriculture, horticulture, viticulture and animal husbandry – has witnessed spectacular growth over the past few years. At this year's event there will be a 15 percent increase in the number of exhibitors on last year. INDAGRA has definitely grown from year to year, in terms of both the number of exhibitors and the exhibition surface, but also from the quality and diversity of the exhibited products and services. This year it will host 450 companies from Romania and 21 other countries – Austria,
Belgium, Bulgaria, China, South Korea, Denmark, the UAE, France, Germany, Greece, Italy, the UK, the Netherlands, Poland, Serbia, Slovenia, Spain, the USA, Turkey and Hungary. Overall, 36 percent of exhibitors are from abroad.
How many visitors came last year and how many do you expect this year?
In 2012, INDAGRA, alongside the three other events that took place during the same period, namely INDAGRA Food, Drink & Wine Expo and All-Pack, brought over 50,000 visitors to Romexpo. This year, we have set the target – and we believe that we will achieve it – to surpass the number of visitors recorded last year. We expect to have an increase of at least 10 percent in the number of visitors on last year.
What are the top five biggest trade fairs organized by Romexpo each year?
It is hard to make a clear classification (…). What I can say is that INDAGRA, the Bucharest International Technical Fair (TIB), the Romanian Tourism Fair, Construct Expo, the international fair for construction technologies, equipment and materials, and Ambient Expo, the international fair for interior and outdoor decoration, furniture and swimming pools, are the top five events we organize. These represent some 25 percent of the company's revenues.
Is Romexpo planning any investments or other new developments in 2014?
In 2014 we want to continue the strategy we have begun this year, which is to bring new events in new areas. A 2014 debut will be the Romanian Nautic Expo. By expanding into new areas, we want to offer our visitors a full exhibition schedule covering the entire economic arena.
We will also continue with events such as concerts, exhibitions and other artistic events. As for investment plans, these are definitely in the cards. A sound logistics base is necessary to host good quality events.