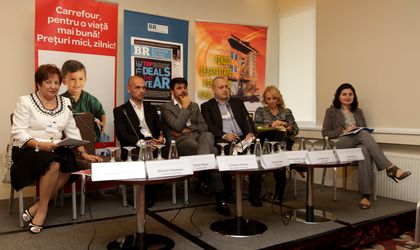 Romania must make better use of the EU funds it receives, put in place the fiscal incentives to reduce tax evasion and invest in know-how – these were some of the conclusions of the first edition of the Focus On Agriculture event organized by Business Review last week. Participants shared their experience and views on how challenging and also how profitable it is to invest in Romanian agriculture.
Simona Bazavan
Romania's agricultural output amounted to roughly EUR 20 billion last year, but it has the potential to reach EUR 40-50 billion, said Valeriu Tabara, member of the Agriculture, Forestry, Food Industry and Specific Services Committee in the Chamber of Deputies and a former agriculture minister.
He told the audience that agriculture has been on an upward trend in Romania in the past couple of years which will continue this year too. In his opinion the sector has the potential to play a greater role in the Romanian economy if it is approached as a priority and continuity is ensured.
One of the main topics discussed by participants was the reform of the future Common Agricultural Policy (CAP) for 2014-2020 and its implications for local farmers.
The draft bill proposes an increase in direct payments for Romania as along with several other EU members but also additional measure such as a special support scheme for small farms and young farmers which will be beneficial to Romanian cultivators.
There are also considerable challenges ahead, warned Achim Irimescu, secretary of state at the Ministry of Agriculture and Rural Development, especially for the small, local farmers who make up the majority. Making better use of the money received from the EU, integration and the creation of producers' associations are a must in order to survive, he urged.
Coming up with viable solutions to fight the high levels of tax evasion in this industry should also be a priority as this is a vicious circle that condemns many farmers to underdevelopment.
Local farmers reap higher direct payments
Direct payments for Romanian farmers should grow from about EUR 120 per hectare this year to EUR 180 per hectare by 2016, said Irimescu.
"Romania started in 2007 with direct payments worth 25 percent of the EU average, and under the present scheme of gradually increasing these funds, we will reach EUR 180 per hectare by 2016, although the EU average is EUR 270 per hectare. After the reform of the CAP we will reach EUR 200 per hectare, which is an actual growth of only 7 percent," he said, adding that there is no deadline to reach convergence with the EU average.
Out of the money it receives from the European Agricultural Guarantee Fund for the Single Area Payment Scheme, Romania has absorbed EUR 3.12 million since 2007, meaning about 57 percent of its allocation, said Raluca Daminescu, director of the methodology, monitoring, reporting and institutional relations department of the Payments and Interventions Agency for Agriculture (APIA).
The draft for the CAP for 2014-2010 proposes to reduce discrepancies between member states in the levels of payment stipulated by the current legislation. About seven EU countries could enjoy increased direct payments, including Romania. However, the proposal to even out direct payments between member states also means that some states, such as France and Germany, which presently receive some the highest sums per hectare, will get less than they do now.
Given the present economic context and the fact that the countries that receive the highest per hectare payments are also the biggest contributors to the EU budget, there is political pressure in Brussels to reduce the scale of redistributions and even cut the funds for direct payments in a number of countries including Romania, said Irimescu.
He added that this is unlikely to happen and the Romanian government is taking the necessary steps in order to receive the same funds for rural development and increase the sums for direct payments during the fiscal period 2014-2020.
Irimescu said that Romania started in 2007 with a low level of direct payments due to its low yields. On one hand this was caused by the droughts in '98 and '99, but another factor was the high level of tax evasion, with many farmers not reporting all of their production. The level of direct payment per hectare was calculated at that time as yield per hectare multiplied by EUR 63. In the EU, subsidies represent about 60 percent of the final value of agricultural products.
Also discussing the future CAP, Veronica Toncea, general director of Fondul de Garantare a Creditului Rural, said that for the 2014-2020 period, measures for rural development could be accompanied by financial engineering solutions in order to increase fund absorption and even insure against risks by setting up mutual funds.
GMOs versus organic farming
Participants also discussed the more controversial issue of cultivating genetically modified organisms (GMOs). Nicolae Hristea, president of AgroBiotechRom, argued that given the increasing demand for food, the EU should reconsider its position on this matter and allow farmers to use the technologies they consider fit. Liviu Rusu, food safety director at ANSVSA, said the issue of GMOs has become political in the EU, when in fact scientists should have the final say. Not everyone, however, agreed that GMOs are a solution, not even in the case of the growing world population and a similarly increasing demand for food.
Present at the event, Marian Cioceanu, president of the Bio Romania Association, said in the long run organic farming remains a more viable solution. He pointed out that organic farming has been on an upward trend in Romania in recent years.
Local farmers' growing interest in this niche segment comes from both increased demand for organic products, local and international, and from the fact that those looking to convert from conventional production to organic have been receiving financial support for several years now. Last year alone the number of organic farmers grew three fold, said Cioceanu.
And although less than one percentage point of the country's arable surface is officially organically cultivated, Romania is among the top fifteen organic exporters in the world, although it mainly exports raw materials. But this too could change, he said.
Cioceanu was not the only one confident that organic farming is looking at considerable future growth in Romania. Cristian Onetiu, owner of BIO Logistic and two other companies dealing with the distribution and retail of organic products, stressed that organic products are not only healthy and environmentally friendly but are also good business.
His three companies have reported sales of about EUR 15 million and a 15 percent EBITDA in the last few years.
Andrei Barbu, who owns Cosul de Legume (The Vegetable Basket) and is an entrepreneur turned farmer, after having previously worked in the IT industry, thinks that developing extensive agriculture, for example as in Brazil, and therefore using GMOs is not a solution in Romania's case.
In his opinion, specializing in the production of quality products rather than large quantities and building a national brand around this is not only more sustainable but can also be equally profitable.
Challenges ahead
Participants also tackled fiscal topics related to agriculture in Romania. Local businesswoman Camelia Sucu, who owns Piata de Gros, a wholesale market for agricultural products in Bucharest, said VAT remains an issue in this industry.
One of the main reasons why agricultural products are expensive and tax evasion represents a burdensome share of the entire market is the high level of VAT, which hampers competitiveness and stimulates the black market.
"We are the only country in the EU that has 24 percent VAT for food. Hungary, for example, which has general VAT higher than Romania's at 27 percent, has a much lower level for food," said Sucu.
Other related fiscal issues, including transfer prices, were presented by Teodora Alecu, director in the tax department of KPMG Romania. She explained how in the case of transfer prices, setting up local commodities exchanges would help.
Local taxes too can be an issue, added Victor Emanuel Ciuperca, area manager of AMB Holding, an Austrian investor in local agriculture.
The average investment in setting up farm infrastructure and buying the necessary equipment for 1,000 hectares of land is around EUR 1 million, he estimated.
Local taxes paid for this infrastructure in most cases reach the maximum level allowed by the law and reductions or fiscal incentives are almost never applied as in most cases local authorities see investors as an opportunity for income rather than an opportunity for the community, he explained.
But the challenges an investor faces start long before getting to pay local taxes. They begin with buying the land. Not only is land fragmentized, so its consolidation takes time and a lot of patience, but in most cases there are rampant irregularities with the ownership deeds and documentation.
In addition to all of these issues, a big problem remains the mentality in rural areas and the general attitude towards change, which makes things difficult, said Dana Bucur, agribusiness consultant and the event's moderator.
She concluded that this is something that will surely change in time as the industry itself has evolved considerably in the past twenty years and will continue to do so.
The land problem
Romanian farmland – the quality of the soil, its abundance, but most of all its low price tag – has caught the eye of foreign investors in the past few years, despite problems such as land fragmentation. However, the market is not yet ready to be liberalized from 2014 as prices continue to be too low compared to the rest of the EU, which would lead to speculation, said Tabara, a supporter of delaying the date from which foreigners can buy local land.
Representatives of the government have previously said that pushing back the deadline beyond the end of 2013 is almost impossible as this would mean renegotiating Romania's Treaty of Accession to the EU.
Tabara does not agree. He thinks that Romania can and should restrict farmland acquisition until at least 2020 when the market could settle. This can be done through a moratorium of extension, he explained, adding that there are precedents and this could be implemented.
Some of the participants argued however that such a measure would be justified as prices for local land cannot be expected to reach the same levels as in Western Europe where subsidies too are considerably higher.
The fear some players harbor that foreigners will buy up the country is unfounded if not ridiculous, said some of the investors present at the event, arguing that those who have bought land so far, through Romanian-registered companies, are making investments locally, bringing much needed know-how and hiring local specialists.
Moreover, Romanian companies that are in fact controlled by foreign citizens and have bought land locally pay taxes for it, added others.