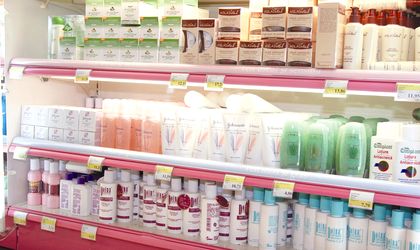 Farmec, a Romanian owned cosmetics producer, concluded the first half of the year with a turnover of RON 82.6 million (EUR 18.75 million), according to a press release of the company.
Year on year, this represents a 10 percent increase in sales, due to the launch of new product lines, and the expansion of others already in the portfolio.
"According to Nielsen studies, Farmec is number one in the category of face care products – with a market share of 27 percent (both in volume and in value), the Gerovital brand ranking first in this category, in terms of sales value. In the category Treatments for hair, Farmec is again leading through the Gerovital Plant Treatment brand, with a percentage of 30.8 percent in terms of value. At the same time, Farmec ranks first both in the descalers' segment through its Triumph range, covering the domestic market at a rate of 41.1 percent in terms of volume and 37.7 percent in terms of value, and the kitchen care products segment through its Nufar range, leading with a market share of 39.7 percent in terms of volume and 37.2 percent in terms of value," said Mircea Turdean, general director of Farmec.
During this period, the company's external partners opened two Farmec brand stores, one in Greece, in Alexandroupoli and the other in France in Menton, Cote d'Azur. Besides the two centres, there are four brand partner stores abroad – in Sharjah (UAE), Budapest (Hungary), Thessaloniki and Katerini (Greece). In Romania, Farmec has six stores in Cluj-Napoca, Arad, Timisoara and Targu Mures.
For the second half of the year, the company aims to maintain the same growth trend in sales by enriching its product portfolio, identifying new sustainable partnerships and further strategic investments in research and innovation.
Farmec S.A. Cluj-Napoca, the largest Romanian cosmetics producer, owns brands which are exported to all continents.
Natalia Martian