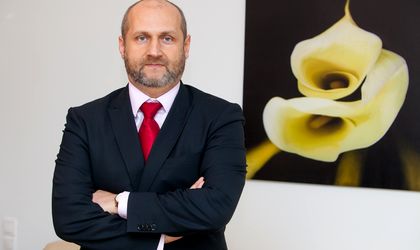 Investments in innovation, promotion and exports remain essential for growth, given that the local make-up market is showing no signs of consistent recovery, Mircea Turdean, managing director of local cosmetics firm Farmec Cluj-Napoca, told BR. Local players can take heart in one thing: in search of quality at affordable prices, consumers are rediscovering Romanian brands.
[restrict]
Simona Bazavan
Foto credit: Mihai Constantineanu
Do you see consumption picking up in 2014 and how did it fare year?
Last year the cosmetics market saw a 6 percent increase in volume for personal care products compared to the previous year. However, in value, there was a drop of around 1 percentage point. This difference has led me to conclude that during crisis times, Romanian consumers, and not only them, want to spend less, but at the same time they pay attention to quality. Our growth rate surpassed that of the entire market because we meet these demands. We remain market leaders for facial care products and number two on the hair care segment, according to Nielsen.
Yes, we expect the market to slightly go up this year too. There should be a slight turnaround, but we have been expecting this for some years now and the crisis still lingers. At Farmec, we're targeting a 10 percent increase and I think we can surpass this. We are ready for whatever the market brings.
How do you see the economy overall going in 2014?
There are signs that things are picking up, but I remember having said this before. Anyway, we are prepared for all scenarios. We are more optimistic that this year will be better than the previous one. It is an election year so it will be a better one, even if it turns out to be the case only in words.
Do you think that these past few years have brought local brands back to the attention of Romanian consumers?
Yes, I would like to believe that this has happened. It is a sign that the market and consumers are maturing. Our brand, Gerovital, recently won the Superbrand 2013 award for personal care products, confirming that we are one of the strongest Romanian brands. There are others like us, but there could and should be many more.
For many years, foreign brands were preferred to local brands. Is this changing?
I think it is and for good reason. What is produced locally is produced by companies that have been on the market for decades, companies with tradition, and which have extraordinary marketing advantages. We are the ones who know the local market and local consumers best. A multinational company can't come to Romania and say that local consumers prefer a certain perfume or a certain product. This has to be researched in order to be able to adapt to the tastes of Romanian consumers.
Farmec Cluj-Napoca increased its turnover by 14 percent in 2013. Where did this growth come from?
First of all innovation, and I'm talking here about research and marketing, market studies and investments in technological upgrades. Promotion is extremely, extremely important. It is not enough to develop a good product if it is not properly promoted. One must look at its competition. When multinational players are throwing millions at promoting their products, one can't hope to be visible on the market without promotion – regardless of the product's quality or the producer's tradition. In our case, for example, over the coming months we plan to be present with the Gerovital brand on all the main TV channels at peak rates. This is what we understand by promotion.
Last year we invested in our own distribution which is very important. Last year's growth also stems from a good understanding of the market and good management.
Given this stress on promotion, how much do you spend on marketing?
We've been increasing our marketing budget each year. Last year we spent about 10 percent of the total turnover on marketing. This year we will allocate at least a similar share, because for us, these investments in marketing and communication are very, very important. The fact that we have this strong and famous brand is an advantage but this alone is not enough.
When it comes to spending on marketing, Romanian companies are perhaps at a disadvantage compared to international players and that is because of lower budgets. We received good feedback from the media companies we work with. International brands are visible on TV all year. We can't afford that yet so we are visible nine months a year, but during the time we are present we get good visibility.
You mentioned investments in distribution. What does this include and what was the total investment last year?
We've invested in new distribution points of our own, including in our own car fleet. The last such distribution point we opened was in Baia Mare. Now we have a network of 12 such locations.
Overall, we invested EUR 600,000 last year. This includes everything – the investment in distribution, innovation, technological upgrades and so on. It also includes the 200-sqm showroom which we opened last year in Cluj-Napoca. We want to increase this in 2014. Given that we're targeting a turnover increase of about 10 percent, we want investments to go up by at least this much.
What profit did you report last year?
It stood at 6 percent of the turnover, a level which we have maintained over the past year and we aim to maintain in 2014 also.
How much did you export last year?
We exported about 25-30 percent more in 2013. We've increased our presence in Eastern Europe, on neighboring markets such as Hungary, Poland, the Republic of Moldova and Ukraine. This required promotion efforts either with our distribution partners or by ourselves through local PR and communication firms.
Last year we exported EUR 1.2 million worth of products. This is not bad – we managed to double our exports between 2009 and 2013 – but we can grow even further. Increasing exports is part of our growth directions and our strategy for the next five years and it should be part of the objectives of any local company.
Right now we're exporting to a total about 40 markets. Japan is our main export market. Farmec has been exporting to Japan for 40 years and the market now represents 22 percent of our total exports. Hungary comes close behind. We also have good exports to the Middle East – to countries such as the United Arab Emirates, Kuwait, and Egypt – as well as the Republic of Moldova, Spain and many other countries. We only export under our brands; only in Japan do we do private label.
How much of the company's turnover is generated by private label?
Unfortunately, private label production remains something of a hobby. It currently represents only 1.5 percent of the turnover, which is a similar share to other local companies. We do private label for Carrefour, Metro and Rewe. We definitely want to increase this and private label products overall are a growing trend which local producers should consider and which in some years will become an important market.
Don't you see it as a threat to your own brands?
No, because we compete on different segments. There are different requirements. For example, we do private label for Carrefour and the sales of our brands in the Carrefour network were in no way affected by this.
How is distribution divided between the different channels?
Half of our sales are made through modern retail. We sell 14 percent through pharmacies. This has been growing in recent years and it has room to grow even more. There is a clear trend in this direction. The remaining 36 percent is sold through traditional retail stores. This has decreased but it is difficult to predict how it will go from here.
Any plans to sell the Farmec business?
That is certainly not in our plans. The growth we have posted over the past few years proves we have a winning strategy. And there are so many examples of local producers taken over by international players only to later disappear. One only has to look in Cluj-Napoca for such examples. There are even more countrywide and elsewhere as well. We are 450 shareholders and we all have the same interest, which is to work together so that this company continues to grow.
[/restrict]