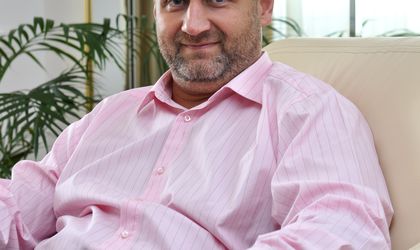 Between the crisis and lack of government support, cosmetics firm Farmec Cluj-Napoca has set optimistic targets for 2012, rolling out investment plans and hoping to charm Russians and South Koreans with its beauty products, said GM Mircea Turdean.
After Farmec's business increased by 15.6 percent last year, the target you've announced for 2012 is only 5 percent. Why this downsize?
Because of the market conditions, because of the crisis which is not yet over and also the shrinking purchasing power. And yes, I would say that 2012 is worse than the previous year for Romania from an economic perspective. It will definitely not be the year when we see the end of the crisis. More than 80 percent of our consumers are Romanians and if their purchasing power decreases, it makes it hard to sell the volumes we have targeted. Even if we, as market leader on several segments, manage to gain additional market share from our competitors, the market itself doesn't grow. As for what 2013 will bring it is very hard to make predictions.
Another aspect we recently witnessed is price increases in the raw materials we use. In the cosmetics industry we have to import most of these raw materials – about 80 percent if not more. We had some domestic suppliers but they closed down. In relation to this there is the exchange rate which is not favorable and which, at the end of the day, affects profitability. There are also problems with the state in recovering the money we are entitled to receive. But even so, we have had relatively good results, growing by 8.5 percent in the first five months of this year to EUR 11.5 million.
What sort of problems with the state?
We have been waiting to recover VAT for more than a year. A month ago we received a letter from the authorities saying that the state doesn't have money to pay the VAT and we must wait. The legal deadline to recover VAT is three months. That is our money and it is our right to recover it. Not to mention the taxes we pay which are at the level of last year's profit and which reach a nice sum. As for the issue of the alcohol excise tax, we have lobbied for this on all possible channels. The alcohol which is used in the cosmetics industry is taxed in Romania, although this doesn't happen elsewhere in the EU. Here, too, we have to recover money from the state and the delays cause cash-flow problems. This excise tax cost us a EUR 6 million contract two years ago.
And all this happens even though we are a successful large company. There are also inspections from the Financial Guard and the Customs Office which we are dealing with on a monthly basis.
Regarding the VAT, we have referred the issue to lawyers. We are a private company, we work for our money and we want to be respected. Elsewhere in Europe, the state supports private companies. It would be nice if that were the case in Romania too, but we just want not to be hindered.
What are Farmec's objectives this year?
The turnover and the profit are two important objectives. Last year the turnover was RON 110.9 million (EUR 26.2 million) up 15.6 percent y-o-y. In the first five months of 2012 we grew by another 8.5 percent to EUR 11.5 million.
This year we also plan to increase exports by 40 percent and to increase the production of private label products. This currently has a share in the total volumes of about 4 to 5 percent but the target is to boost it over the next five to six years, but by no more than 25 percent.
We will continue to invest in technological upgrades. This is a continuous process for us in order to maintain low costs and constantly improve productivity. Overall, this year we have an investment budget of about EUR 600,000.
We will also continue to launch new products as we plan to maintain our market share and the market leader position we have on several segments.
What profit did the company report last year?
In 2011 we had a profit of about EUR 2.3 million compared to EUR 2 million the previous year. This year we plan to increase it further although this is not an easy thing to accomplish in the present context and given all the issues I have mentioned. Sales grew by 8.5 percent in the first five months, more than the 5 percent target we set for this year, and if the trend is maintained we will be satisfied with the results. Now God forbid the government invents some new taxes and comes up with some genius plan to collect more money. Because when they set out to do that, they usually target large and medium-sized companies with good results. I wish they were intelligent enough to understand that supporting businesspeople and the economy is the way to solve things.
What changes do you think should be made at central level that would also positively impact the business environment?
Promoting professionals in the public institutions would the first thing. I understand that ministries must be led by politicians but they in their turn should lead teams of professionals. Of course, there is also the question of VAT, which should be lowered, and to once and for all address the issue of the excise tax on alcohol used in the cosmetics industry. We are the only European country where this happens. There is talk about harmonizing our laws with European ones but this is done only where it suits us.
How much do you export currently and what will Farmec's export strategy be this year?
About 10 percent of our turnover comes from exports. This year I have set the target to increase exported volumes by 40 percent and thus take their share in the total turnover to about 16 percent. Judging from the results in the first few months we are on the right track.
We plan to achieve this growth by increasing sold volumes on our traditional external markets but mainly by entering new ones and changing the approach.
We traditionally export to over 40 countries but through partnerships with a large number, about 100, smaller companies. Now we are mainly focusing on neighboring markets and we have changed the strategy, even though this means investing more. Last year we entered Hungary, where we chose a large distributor which does business with the all the important retail chains present there. Sales in Hungary amounted to EUR 300,000 in 2011 and this year they should reach EUR 500,000. We will apply the same strategy this year in Poland and Ukraine. Next year we plan to enter Russia and South Korea.
Hungary has now become our largest external market, even though two years ago we weren't present there. It is followed by Japan where we have been present for more than 40 years and export about 75 percent of the volumes sold in Hungary, followed by countries in the Middle East, where our brands are very popular. We also export to Australia, the USA, South American countries, Spain and many other places.In order to further grow we cannot rely solely on the domestic market. And it would a pity not to take advantage of a brand such as Gerovital which enjoys fame both in Romania and abroad.
CV Mircea Turdean
A graduate of the Chemical Technology Faculty in Iasi as well as the Open University Business School, he joined Farmec in 1994 as technician, later becoming researcher and department manager. Nine years later Turdean was promoted to technical director, tasked with coordinating production, research and new investments. In 2010, he was appointed managing director, replacing his father, Liviu Turdean, who had held the position for more than 40 years. The Turdean family is the main shareholder in Farmec Cluj-Napoca.
Simona Bazavan