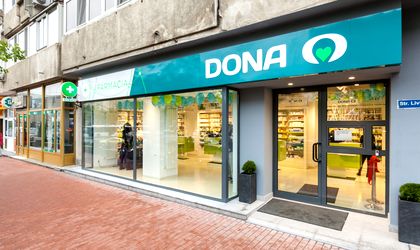 Romanian pharmacy chain Farmaciile DONA plans to invest up to EUR 15 million in rebranding in the following 4-5 years, according to a press release from the company.
The chain will refurbish and redecorate their units in the near future, with the first redesigned unit already open to the public – DONA Liviu Rebreanu. Company representatives estimate that 50 more pharmacies in Bucharest around the country will be reopened with a new design by the end of the year.
"The new DONA slogan, communicated at the start of March – "a pharmacy like it should be" – can now be reflected in the visual identity", says the press release.
Beyond image objectives, the promotional efforts will sustain the company's ambitious development plans: 300 pharmacies by the end of 2016. Currently, Dona is the third biggest pharmacy chain in Romania.
"After a period of time when we focused mainly on services – continuous training of pharmacists, updating prices to increase accessibility, extending the network and offering a wide array of products and health services – it's now time to freshen up the brand's image. We're investing in a new image campaign that illustrates our vision of how a pharmacy should look", according to Ovidiu Wencz, DONA general manager.
"Our clients have responded very positively to the new brand messages. After a month and a half of intense promotion, pharmacy traffic is on an upward trend, which can also be said for the number of patients and released subscriptions".
The pharmacy chain posted a turnover of RON 175 million (EUR 39.2 million euro) in the first quarter of the year, when it opened seven new pharmacies.