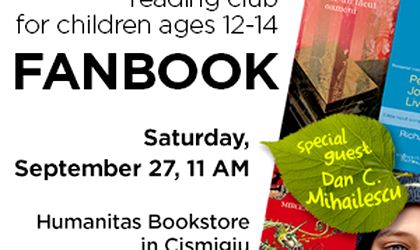 CSR Mindset Association and the Humanitas Cismigiu Bookstore are organizing throughout September the a series of meetings under the Fanbook umbrella.
In order to avoid the conventional "book club" concept, every edition of Fanbook will host special guests from areas like literature, art, cinema, and so on, whose vision will open up a whole new world of books. The aim is to design a lively program, shaped as an instrument to awaken the "joie de vivre" and develop creativity, imagination, curiosity and the ability of connecting concepts.
The project also has a social component that supports responsibility and involvement. Each member of the club will pay a participation fee, and the funds raised will go towards buying books for the children with cancer admitted at Fundeni Clinical Institute.
The books will be chosen by the members of the Fanbook club, based on their experience along the monthly meetings of the club.
The inaugural edition of Fanbook took place on Saturday with special guest Dan C. Mihailescu.
The program is in its pilot stage right now, but the project developers hope that if enough people sign up, they can take Fanbook to the next stage: national deployment. Watch out for updates on Fanbook meetings in the following weeks.