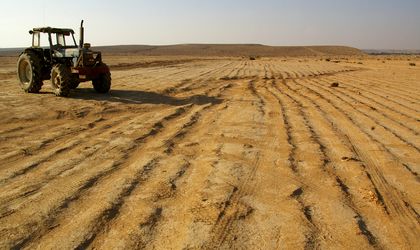 In 2013 Romania is looking at its highest wheat production in the last eight years, say the authorities. However, this does not necessarily spell profit for local farmers, who are complaining of an unjustified drop in prices – one which traders say comes down to simple supply and demand.
 By Simona Bazavan
Traders currently buy wheat from Romanian producers for about EUR 130-140 per tonne, while in France and Italy they pay up to EUR 200 per tonne, complained Laurentiu Baciu, president of the League of Romanian Farmers' Associations (LAPAR) during a press conference last week. He accused traders of abusing their monopoly position with the collusion of the authorities, leaving farmers struggling to make ends meet.
The traders' response to farmers' dissatisfaction, however, is that it is not the traders who set the prices but clear-cut market conditions.
Tensions between farmers and traders over acquisition prices are common in Romania during harvest campaigns. More so this year, when after the poor harvest and resulting high prices in 2012, wheat production is expected to bounce back to the record levels of 2011. Moreover, Romania is not alone in reporting good grain harvests, creating price pressure at a global level.
These arguments, however, are not enough to explain the price evolution in Romania, argue farmers.
Grain acquisition prices have been a hot topic over the past few weeks, provoking comment from President Traian Basescu, who said the market was dominated by four-five large traders and urged the government and Competition Council to investigate the situation, as the difference between acquisition prices is very low – EUR 1 per tonne.
The matter resulted in further political rows between Basescu and PM Victor Ponta, who accused the president of favoring several large local farmers. It also led to a Competition Council inquiry. In late August, an investigation into suspected price fixing was initiated and 10 local traders stand to be fined up to 10 percent of their turnover if found guilty. The results have yet to be made public.
Supply and demand
One cannot talk about the local grain market without taking into account the global one, stressed representatives of the Romanian Association of Traders in Agricultural Products (ARCPA) during a press conference two weeks ago. The association's members include the top five traders in Romania: Cargill, Alfred Toepfer, Glencore, Ameropa Grains and Bunge.
In a good agricultural year Romania exports between 7 and 10 million tonnes of grain, which represents no more than one percent of global transactions. This means Romania is in a position to follow rather than set global trends, they said. Market developments in the Black Sea region – which is dominated by two larger players, Ukraine and Russia – are influencing prices too. Russia and Ukraine alone are expected to export 55 million tonnes of grain this year and an additional 30 million tonnes will be traded in the Black Sea region compared to last year, forcing prices even lower.
Moreover, the downward trend is not something that has occurred overnight, said Vasile Varvaroi, president of the ARCPA, adding that the prices started contracting as early as the beginning of the year.
While refusing to make any comment on the actual prices they pay farmers, traders' representatives said that it all boils down to supply and demand in the regional and global context. The farmers' discontent comes after last year's poor harvest inflated prices to record levels of EUR 240-250 for a tonne of wheat. Prices are only now returning to 2011 levels, they added.
Furthermore, farmers often compare the sum they receive for their crops at the farm gate with the money traders get when later selling the merchandise themselves, without taking into account all the costs traders incur, added Varvaroi. Players like Bunge, Toepfer and Ameropa Grains sold major quantities of Romanian wheat in Egypt earlier this summer for around EUR 180-195 per tonne. Out of this, transport, freight and other handling operations come to around EUR 25 per tonne.
But it is not only farmers who are unhappy with the way the market is organized at present.
Things would improve greatly with more contractual discipline, say traders. Farmers breaking contracts when the prices no longer suit them is not an uncommon practice, and under the present laws there is not much traders can do to recover losses, they complain. Risk management tools are mostly unknown to Romanian farmers and overall the market is underdeveloped and immature when compared with Western economies, say traders. "We would like to see more forward contracts," commented Varvaroi.
One way to make the market more transparent, which has often been mentioned over the past few years, is the setting up of a Romanian grain stock exchange. The measure is supported by EU agriculture and rural development commissioner Dacian Ciolos, who argued as early as 2011 that this is the only solution if Romania wants to become an important player on the grain market.
Traders say they support the idea but at this point it is not feasible. Their argument is that there are not enough players on the market to make a stock market representative.
Reaping the full benefits?
"I don't care how traders set their prices and I don't care what risks they are taking on. They don't care about the risks I am taking on. What I want to know is why they pay Romanian farmers EUR 135-140 for a tonne of wheat, and pay French or Italian farmers EUR 190-200," said Baciu last week, during a conference organized by ZF. He went on to say that the situation is even grimmer for Romanian farmers when considering that their Western European counterparts enjoy higher subsidies.
Baciu complained that acquisition prices for wheat have dropped sharply over the past few months, from about EUR 227 per tonne in early June to EUR 140 per tonne in early September, which cannot solely be explained by the rise in supply.
Despite better harvests this year, farmers are not able to cover their costs, and for the first time in recent years, many of them will have to take out bank loans to prepare for next year's harvest.
The reason behind the price drop is the monopoly position the main grain traders in Romania enjoy, complained Baciu. Not only are the authorities doing nothing to remedy the situation but they are even lending traders a helping hand, the LAPAR president added.
In his opinion, traders are taking advantage of the fact that Romanian farmers are undercapitalized and lack storage capacities. Traders can therefore buy crops shortly after harvest when prices are at their lowest.
The difference between the prices Western European farmers get compared to local ones is also due to poorer negotiation power, according to Gheorghe Nedelcu, president of the Romanian seed traders' association, ANSEM.  Should farmers join forces, this would give them a stronger say in the market.
The farmers' reduced negotiation power can also be attributed to the government suspending the warehouse certificate scheme this April, following suspicions of fraud.
The system enabled farmers to get postharvest credit in the form of warehouse receipt finance and thereby avoid selling directly after harvest.
ARCPA representatives, on the other hand, say that there has been a recent tendency among farmers to sell their crops later. Those who sell closer to harvest time do so mainly because of cash-flow difficulties rather than lack of storage capacities. According to ARCPA data, between 2007 and 2012 warehouses and silos with a total capacity of 2.4 million tonnes of grain were built. Nevertheless, some 1.5 million tonnes of the total stock is owned by the traders themselves, according to the same source.
Baciu said that he does not work with traders, opting to sell his produce himself. He told BR that he hopes wheat prices will pick up in the coming months to about EUR 180 per tonne and urged farmers not to sell at present.
Better protection from the state, more substantial financial support in the form of higher subsidies and the reintroduction of warehouse certificates are just some of the measures he says the authorities should implement to support farmers.
Leaving aside heated accusations between farmers and traders as well as political fighting, recent developments highlight the lack of transparency on the local grain market as well as the difficulties and uncertainties investors are facing.
The situation is also representative of the current state of the local agriculture sector and is a direct consequence of the way the authorities have gone about supporting farmers over the past years.
simona.bazavan@business-review.ro