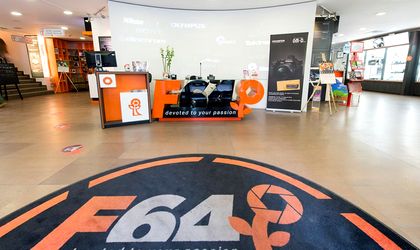 F64, the retailer of photo and video equipment, forecasts a 22.5 percent growth in its turnover in 2016, compared to the previous year.
The company officials estimate the growth will take place along global trends, which indicate the demand for compact cameras will increase. The DSLR prosumer market segment is expected to continue to reach maturity this year. Sales of action and professional equipment will continue their upward trend.
The specialized photo/video retailer announced it has introduced in its portfolio 4K TV screens.
Although 4K TV screens and monitors have existed for some time, F64 officials estimate this will be a good year for acquisitions because prices have now reached an affordable level and there are more and more high-resolution content producers.
"4K resolution is not an absolute novelty, we have been following its evolution since the first equipment that was announced- television sets and then video cameras for ordinary consumers- but we found appropriuate to launch it towards the end of 2015 and the start of this year," said Marian Alecsiu, co-founder of F64.
Recently, F64 has celebrated 14 years since it was founded.
Last year, the company's turnover went up by 15 percent compared to 2014. The average value of the purchase was RON 1,000 and the best-sellers last year included photo cameras DSLR Canon EOS 6D, Nikon D750, Canon EOS 70D, Nikon D5300 and the Sony Alpha 5000 mirror-less model.
The most productive sales period was October- November 2015, when the retailer rolled out the Black Friday campaign.
Otilia Haraga