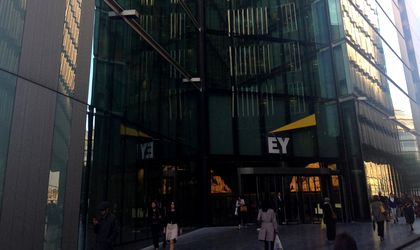 Claudia Sofianu, Diana Lupu and Ioana Iorgulescu have recently been appointed executive directors in the fiscal assistance department of EY Romania, Horiana Istodor became executive director in the transaction assistance department, while Andra Casu was named director of the fiscal assistance department, a company statement shows.
On a global level this year, EY has promoted a record number of women at executive level, representing over 30 percent of all promotions carried out and an increase of 33 percent compared to 2014.
Claudia Sofianu joined EY in 2006 as a consultant in immigration and in July 2010 took charge of the human capital division of EY Romania. Sofianu works for clients in various sectors such as car manufacturing, financial services, energy, pharmaceuticals and retail. She graduated from the Faculty of Law and holds a Masters in European trade.
Diana Lupu graduated from the Academy of Economic Studies in Bucharest in 2000 and joined EY in Romania in 2007, after working for five years for TMF Romania. In recent years, she worked as senior manager in the compliance and reporting division, coordinating accounting services, statutory reporting and tax compliance in several customer industries. In 2002 Lupu became a member of the Body of Expert and Licensed Accountants of Romania, and in 2005 became a member of ACCA (the Association of Chartered Certified Accountants).
Ioana Iorgulescu was among the first professionals to have joined the indirect tax division in the EY Romania in 2006, after 13 years in the IT industry and as a tax inspector in the Ministry of Finance.
Iorgulescu specializes in VAT, accumulating extensive experience in controversies related to VAT, the VAT due diligence and compliance and consultancy projects on VAT. She worked over time for both local and international customers, with a focus on the sectors of energy and utilities, pharmaceutical, manufacturing and retail. She is a member of the Chamber of Tax Consultants of Romania and of the Chartered Accountants and Licensed Accountants of Romania. Iorgulescu graduated the Academy of Economic Studies in Bucharest and holds a fiscal auditor diploma from the Clermont Ferrand National School of Taxation.
Andra Casu joined EY in 2003 and has over 12 years of professional experience working with local and international corporate clients in taxation. Casu is a member of the Chamber of Tax Consultants of Romania, has published numerous articles in the media on issues related to tax and regulatory issues and actively participates as a speaker at conferences and seminars on taxation. Having a significant technical expertise, she provides assistance to customers in various sectors such as banks, investment funds, leasing companies and insurance, oil and gas companies, and companies in retail and automobile construction.
Horiana Istodor joined EY in 2006, accumulating over 15 years of experience in evaluation and financial analysis. She assists clients in various industries in assessing their financial and investment plans. Major customers she worked with activate in energy distribution, investment, oil and gas, industry and public domain. Recently, Istodor collaborated with the National Association of Certified Valuators in Romania (ENAR) on the development of the valuation profession in Romania, as part of the working group that develops new valuation standards.
Natalia Martian