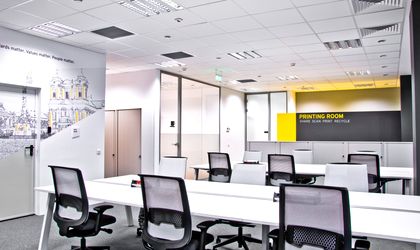 EY Romania's team in Timisoara has recently expanded to 20 members and has moved to a larger office space in the City Business Center building, which is also in line with the company's global concept of Workplace of the future, representatives inform.
"In 2015, we celebrate seven years since we opened our office in Timisoara to provide services to rapidly growing companies here. The local business environment, both through Romanian entrepreneurs' and through foreign direct investments, increases from year to year and manages to keep the Banat area among the most developed and industrialized regions in Romania. And we at EY Timisoara, we grew together with the businesses we serve. We have developed here an agile and efficient team, which includes the best professionals in Banat. The 20 colleagues who form the team of EY Timisoara serve 45 companies in this region," says Bogdan Ion, country managing partner, EY Romania.
The new space in Timisoara is the second regional office to implement the global concept adopted by EY called Workplace of the future, which includes mobile workstations for employees that have flexible hours and IT solutions that stimulate creativity and connectivity between Romanian employees, the ones who travel abroad and foreign offices.
"Among our customers, beside multinational companies that chose to invest here, there are many successful business entrepreneurs of Banat. Their contribution to the local business environment and the country's economy is very valuable. We see this in the Eurostat data showing that the Western region recorded the second highest GDP per capita, after Bucharest-Ilfov, with EUR 7,900 per capita. And 10 percent more than the national average. And Timisoara recorded a GDP per capita more than double the national average, according to official statistics," Bogdan Ion adds .
EY is one of the largest professional services firms globally, with 212,000 employees in over 700 offices in 150 countries and a turnover of some USD 28.7 billion in the fiscal year ending in June 2015. EY Romania became active in 1992 and has offices in Bucharest, Cluj-Napoca, Timisoara and Iasi. Over 650 employees in Romania and Moldova provide seamless assurance, tax, transaction and advisory services business for multinational and local companies. EY Romania is the most wanted employer among Big 4 companies, according to Trendence and Catalyst studies.
Natalia Martian