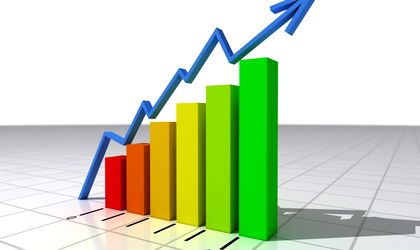 A new Ernst & Young study shows that 40% of Romanian business leaders are confident in the growth of their businesses in 2014, up from just a quarter of them in 2013. 28% of respondents foresee a significant growth of +10 to +30% for their company's turnover in 2014 compared with 25% in 2013, while 67% expect a growth rate of +5 to +10%, compared with just 51% at the beginning of last year.
Only 21% of the respondents expect the profit growth rate of their company to range between +5 to +10% in 2014 compared with 37% in 2014, but a lower percentage of 26% vs. 31% in 2013 expect the profit of their company to grow between +10 to +30% in 2014. At the beginning of 2014, 2% of respondents say the salary increase in their company is expected to exceed 10%, the same percentage as last year.
Most importantly, while 42% said there would be no salary increase for them in 2013, only 19% say the same at the beginning of 2014. Unlike last year, when most companies (76%) said that they would continue to stay on the market if it declined, in 2014 only 56% say the same.
A still high percentage of companies (56% in 2014 vs. 46% in 2013) though, are willing to transform the market through innovative approaches in case such a decline occurs This year as well, the main companies' strategy for financing investments appears to be through bank loans (49% in 2014 vs. 46% in 2013). The intercompany loans, own resources and reinvested profit are expected to increase to 39% in 2014 compared to 27% at the beginning of 2013.