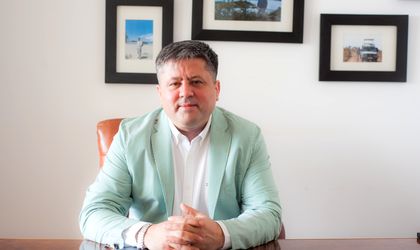 Romanian tourists are increasingly venturing outside Europe to destinations such as the Dominican Republic, Cuba, Indonesia and India, Sorin Stoica, co-owner of travel agency Eturia, told BR. Falling prices are one reason for this, and pundits expect the market to expand even further over the next couple of years.
Simona Bazavan
While last year local travel agencies saw business stagnate and in some cases even drop, 2015 has got off to a better start for the industry. "The market is going up. This is my feeling and this is also what other players on the market are telling me. The number of Romanian tourists travelling abroad has been going up. This can also be seen from the traffic on our site and the number of requests we get," Sorin Stoica, co-owner of travel agency Eturia, told BR. The agency, which specializes in holidays outside Europe, has reported a 100 percent turnover hike for the first semester and Stoica estimates the growth rate will maintain this pace through to year end. By comparison, in 2014 business increased by only about 3 percent.
What's fueling this growth? Partly it's the overall market growing, but also the company's efforts to diversify its portfolio by launching, for example, several spa and wellness products in countries such as India, Thailand and Vietnam, and family friendly packages for other distant destinations. Most of Eturia's travel packages are for destinations outside Europe, which make up about 80 percent of its turnover. "In Europe there are mostly destinations where tourists can plan their own holiday, and as a travel agency there are limited means to compete against booking.com and other direct booking sites. Our customers are people who are looking for more complex holidays and who choose us for our expertise," he said.
Regardless of the destination or the type of holiday, targeting the mid-market segment and making efforts to charge reasonable prices remain the company's focus, said Stoica. "We continue to work on offering affordable products. While three years ago we couldn't offer a trip to, let's say Peru, for below EUR 3,000 per person, this year we were able to offer that at even EUR 2,000. While three years ago a trip to the Maldives was hard to come by for less than EUR 4,000 per couple, now we can offer this for EUR 2,600," said Eturia's co-owner.
This is partly the result of the company's efforts to come up with new options for travel and accommodation. "For the past three years we have worked to get better deals with airlines and hotels. For example, two years ago we signed direct contracts with hotels in the Dominican Republic, the Caribbean, Cuba, Mexico, the Maldives and the Seychelles. All this has enabled us to offer attractive packages to our customers – for example, an eight-day trip to China for EUR 1,000 or Aruba for EUR 1,100," said Stoica.
 This was also possible because international tour operators and hotels are starting to see the potential of the Romanian market, he added. "Two or three years ago nobody would have bothered with us," said the co-owner.
All this should translate into even higher growth rates for the sector beyond 2015. "I think that the Romanian market has far greater potential and I think that it will grow by more over the next two or three years, although it hasn't yet reached that turning point. This could be the moment when a critical mass of tourists is reached who would act as ambassadors, both for outgoing and incoming business, a new airline enters the local market or a direct flight from Bucharest to the US is launched. This would send a strong signal and at that moment the market would become attractive. We are heading that way," he said. Nevertheless, although the market started from a very low base, thereby offering plenty of room for growth, conditions remain tough and the travel agency says it still has to "fight for every client and every euro".
A growing taste for exotic travel destinations
The average price of the holidays Eturia sells is down to about EUR 3,000 at present, says its co-owner. At the extremes, prices range from below EUR 1,000 for holidays in Europe, Dubai and Morocco, low-season packages in the Caribbean and tours of India or China, to standard packages of EUR 10,000 to EUR 15,000 for destinations such as Australia, Tahiti and Bora Bora, as well as for extensive tours of around 25 days in other destinations. "At least once or twice a week we sell a holiday for over EUR 10,000 per couple. These are not necessarily luxury holidays. They end up costing this much because of travel costs and the duration," said Stoica. The price can rise even further to several tens of thousands euros for customized vacations. The most expensive one the travel agent has sold so far was a EUR 110,000 holiday booked in 2009 by a Romanian couple living in London who took a round-the-world cruise for six months.
Nevertheless, the company's target remains to offer as many options for a budget of EUR 2,500 per couple. "Over the years we have seen that this is a psychological benchmark for many customers and we offer a lot of options at this price point," added Stoica. The most popular travel destinations over the past two years have been the Dominican Republic, where Eturia says it sends some 700 Romanian tourists each year, the Maldives, Cuba, Thailand, Indonesia, Mexico, China, the USA, Peru, Argentina and Tanzania. India is becoming an increasingly attractive destination due to growing interest in wellness and personal development, along with South Africa and Iran. All these are a mixture between tours and beach holidays. The latter kind in particular is on an upward trend as many tourists are starting to look for alternatives to traditional seaside destinations in Europe, such as Greece, Turkey and Spain. "There is a growing demand for beach destinations that also involve visiting and sightseeing – what we call relax and tour packages," he added.
The company's target beyond 2015 is to increase its annual turnover to about EUR 8-10 million, which it wants to be mostly generated by repeat customers. "We know our clients and we offer customized packages; this has been our selling point and we want to be able to maintain this," concluded Stoica.
Eturia posted a turnover of EUR 5.3 million in 2014.