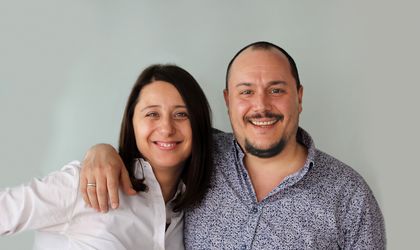 Following the 38 awards and nominations of last year's at the local and international festivals, Publicis Romania become the most creative agency in digital in Romania, according to The Gunn Report – Top Ranked Agencies of Romania in 2015.
BR interviewed Raluca Iacob (Strategy Director) and Jorg Riommi (Chief Creative Officer) to find out what is the secret recipe. They say the agency has recorded in 2015 the best year since its founding two decades ago.
Romanita Oprea
How have changed the departments you are running since you began managing them? (Teams, strategies, visions, goals, awards)
Jorg Riommi.: I think there was quite some change in the vision and in the belief that "making things happen" is not only possible, but really at hand. I think we truly activated the people potential. 2015 was the most successful year since Publicis was founded 20 years ago, both business wise and awards wise – we won several new clients and also a total of 20 international and national awards at Cannes, Golden Drum, Effie and Eurobest, including a Grand Prix. That's pretty ok as a change for a first year, in our view.
Raluca Iacob: It all started with creating a place for the planning people to make a difference. And that required a lot of changes from team members to the way we work, the tools we use, the goals we want to achieve. Now the team is multidisciplinary, meaning it integrates naturally digital planning and social media planning. And this is because I do not believe in a very specialized type of planning – we just voice differently the surprising truth about consumers that ultimately becomes a campaign and an exciting experience for our audience.
What has worked better and what not?
J.R.: What worked was to start the process of implementing a new creative culture. The next step would be to bring really everybody on board and bring it to the next level. It's just a matter of time and building on the good results, keep improving.
R.I.: In the first year the priority was to gather the best team possible and when I say this I mean I looked for planners that come from different backgrounds, with different talents and skills so we always have something new to debate, we always have a fresh point of view around the table. Equally important was to give a voice and a clear role to this talented team inside the agency. And this is where I feel the most that Publicis is transforming – building a great synergy between all departments and having fun while working. And I guess this is already visible in the work we produced in the last 2 years.
What are the decisions that you are most proud of and why?
J.R.: To come back to Romania – I love this country's energy and appetite for greatness: it's chaotic in a good sense that translates into opportunities.
R.I.: Taking the leap of faith to experience Central Asia at its best, to know a different and amazing culture. It fueled me with confidence that everything is possible and I took this energy back home when I started working for Publicis. And then there is the Green Endorsement Campaign we've just launched, that is the result of a great partnership between us, Plantam fapte bune and over 30 companies. The full story here.
Do you have any regrets?
J.R.: Why should I? I always lived based on how I feel about things. If what I feel in the moment I take any decision is right, then there's no possibility for regrets.
R.I.: Not really. I've always done things I believe in and this leaves no room for regrets.
What do you intent to still bring new in 2016-2017?
J.R.: Better ideas, make bigger things happen for Publicis Romania.
R.I.: The most important thing is nourish the new culture that we all started to build together in the last 2 years. A culture where the purposeful ideas are the ones that will shape the market and will make a difference long term. This is the most valuable thing for our agency and is an ongoing process that takes a lot of work and courage with each and every project.
What is, in your opinion, the difference between Publicis and the rest of the other agencies in Romania? What do you bring unique to the industry's table?
J.R.: There are not many agencies as big as Publicis in Romania, maybe 1 or 2. Size comes with the opportunity to work with large major clients and brands, and have them all in house at the same time. When we apply our creative drive to this, we can certainly impact the local advertising market and business on a large and visible scale. I think the rest of the market looks at what we do here.
R.I.: We are different exactly because of this new culture we are building – where we don't think in ads but in added value to people's lives. We want to matter, be useful and shape for better the world around us.
What do you consider to be the trends in creativity / strategy for the next two years?
J.R.: Mobile and real time interaction in PR and social media. Everything will have to become relatable.
R.I.: I had a very interesting conversation with Neil Davies, the Effie CEO, about this topic. In the era of interconnected channels, the 360 approach is no longer the answer. Great strategic solutions are more about finding the most effective channels that will solve a very specific problem for the brand than spreading a message all over town. Usually the problems we start from are very generic and not fertile. The future is for the ones fighting the generic problems with sharp diagnosis. This can be achieved only by having all disciplines, including the marketing department, working as a big team.
What are your main goals for the next 2 years in terms of awards, international tops such as the Gunn Report, for example?
J.R.: Well, this year we were #2 on the Gunn Report in Romania. I have a "We try harder" approach to that. But I have this approach anyway. We will focus on making Publicis Romania consistently one of the best agencies in CEE. In 2015 we made top 5 at regional Golden Drum festival, this year and next we shall beat that. And of course top Cannes, Effie and Eurobest.
R.I.: The main goal is to have better ideas and more meaningful projects. The awards will follow as they are not a purpose in itself but a recognition that we've achieved our main goal of making meaning.
Has the industry really recovered from the crisis or not?
J.R.:  The question is ambiguous, because the whole industry changed with the crisis and won't get back to what it was before, it wouldn't make sense.  But change is constant, and change is good. We embrace change.
R.I.: I guess the crisis ended the bohemian years of advertising. It pushed us all to evolve to a higher level of relevance. Still, the pulse we have from all our clients is great, the stats show the same, the consumer confidence is growing. So yes, the market is recovering as we speak in almost all categories.
Publicis Romania started to consolidate its creative and strategy departments in the summer of 2014, by hiring many talented assets and changing its business perspective.
 Raluca Iacob started her career in advertising 13 years ago, within Client Service department, but evolved and found her vocation as a strategist. Over the time, she developed successful communication strategies for important local and international brands like Aqua Carpatica, BCR, Caroli, Dedeman, Golden Brau, Heineken, La Strada, Neumarkt, Nestlé, Nokia, P&G, Petrom or Vodafone.
During her 7 years as strategist prior to Publicis Romania, Raluca lead important pitches and won them for agencies like Romanian McCann Erickson and Cohn&Jansen but also for agencies from abroad. In Kazakhstan, she coordinated the biggest strategy department, developing the strategy for country's main commercial bank and winning the most important telecom pitch there. With her work, Raluca won awards at Effie (including a Grand Effie), at Golden Drum and a nomination at Cannes Lions
Half Italian and half German and a combination of rigorousness and creativity, Jorg Riommi, prior to becoming Chief Creative Officer at Publicis Romania, worked during the last three years as Executive Creative Director at Saatchi Frankfurt. During the last year, he also coordinated Saatchi's office in Berlin and successfully contributed in bringing Saatchi Germany from 38th place in the creativity top in 2011 to 5th place last year.
Jorg has over 12 years of experience in advertising and after working in 4 countries in Europe and South America. Over his career, he received over 60 awards in major international ad festivals like Cannes Lions, Clio, London International Awards, Eurobest, New York Festival, Golden Drum, AdPrint or ADC Italia. After previously working in Romania (copywriter and then Creative Director at Saatchi & Saatchi), Jorg returned, this time, to take over the lead of one of the biggest creative departments in Romania.