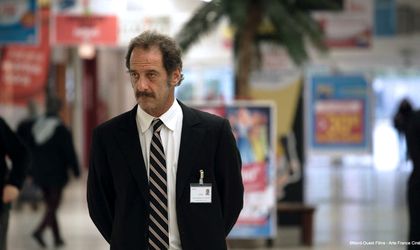 Unemployment seems to be having a moment with francophone filmmakers. In 2014, chroniclers of blue-collar Belgium, the Dardenne brothers, directed Marion Cotillard in a powerful and almost unbelievably tense tale of an emotionally fragile mother fighting for her factory job, Two Days, One Night.
Debbie Stowe
Now Cannes entrant The Measure of a Man covers similar ground and themes, albeit less dramatically. The man in question is Thierry (Vincent Lindon), a 50-something unemployed French factory worker trying to support his family in an economy that has little use for his skills.
The story follows his job search and its many frustrations and humiliations. Appointments and interviews with a series of younger, confident, suited, IT-savvy professionals make Thierry – who's basically the French version of a beaten down Bruce Springsteen protagonist – looks hopelessly out of his time.
In one excruciating scene he finds himself at a sort of job club, during which the other participants are asked to watch a video of him being interviewed and give feedback. We see little outward reaction to the stream of criticism, but the power of Lindon's performance here lies in conveying a lot with a little.
The actor is on screen almost the whole time and carries the film with understated ease, investing Thierry with the quiet dignity of the working man. The rest of the cast are unknowns, and director Stéphane Brizé appears not to be interested in the other characters and their stories.
The narrative is also pared down, avoiding the easy melodrama and crises that stories of the down-on-their-luck working class can rely on. Thierry has money worries, but his family is not on the point of starving or being evicted.
His son is disabled, but this plot point is not milked as a source of stress – Matthieu (Matthieu Schaller) is high functioning and Thierry and his wife (Karine De Mirbeck) clearly enjoy each other's company and don't seem to row about their parlous finances.
The drama instead comes largely from the minutiae – a negotiation of a caravan sale, the small moral dilemmas Thierry faces when he finally finds work. It's this very human look at an ordinary Joe that gives the film its power, showing how the modern, capitalist economy leaves the hardworking little man on the scrapheap.
The episodic nature of the movie does lead to a lack of narrative thrust at times, and though the end provides some catharsis, it's a weak one – although one could applaud the director for not tacking on a tragic finish that would have been out of kilter with the low-key tone of the rest of the film.
The Measure of a Man offers nothing new, but tells its familiar story with quiet conviction, and never patronizes its characters.
Director: Stéphane Brizé
Starring: Vincent Lindon, Karine De Mirbeck, Matthieu Schaller