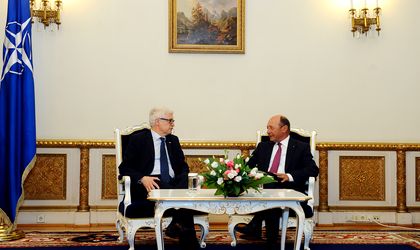 President Traian Basescu said last week during a meeting with Giovanni Kessler, the general director of OLAF, the EU's anti-fraud body, that excessive reporting from its local arm, the DLAF, is blocking some local EU-funded projects.
Increasing the absorption of EU funds is one of the pillars that will support economic growth this year, reckon analysts. However, the country is grappling with low absorption and the government is currently trying to unblock payments from operational programs that were pre-suspended due to fraud allegations.
"I am sometimes under the impression that due to bureaucracy or in order to cover the activity of some of our institutions, the DLAF exaggerates the monitoring and a lot of projects are blocked due to this approach," said the president.
According to a KPMG report, Romania registered the lowest absorption rate out of ten surveyed countries in CEE in 2012: 12 percent. This meant that close to EUR 3 billion worth of grants were paid to beneficiaries.
In spite of the poor absorption, the number of inspections carried out by the DLAF doubled in 2012, while the number of notifications sent by OLAF to the national managing authorities of operational programs increased nine fold. The DLAF warned in its 2012 report that its investigative staff is overloaded as only half of its positions are filled.
"Prosecuting bodies in Romania are cooperating very well with us." said Kessler.
"We have seen an increase in indictments and convictions." The OLAF head stated the judiciary is "on the right path", although it still has to put in more effort.
Last year, the National Anticorruption Directorate submitted 65 cases to the DLAF, making it the biggest contributor.
"For Romania, what we are doing increasingly is forwarding allegations to the local institutions," stated Kessler. He added that OLAF steps in to investigate trans-national crimes involving EU money or to support national authorities. The body also acts as an "internal police" for EU institutions, hunting down staff for serious matters, including fraud or corruption.
OLAF registered a record 1,300 allegations in 2012, which was 30 percent more than the previous year, and Kessler said this trend is set to continue. Germany and Italy filed the most allegations, both from the public and private sector.
Kessler said it was of particular importance to receive allegations of fraud from public bodies such as the financial police, judiciary and customs offices. He added that some EU members did not submit any allegations, which could mean two things; either they had no corruption or they hid it.
According to the OLAF head, the number of allegations from private companies has increased in Romania.
Ovidiu Posirca