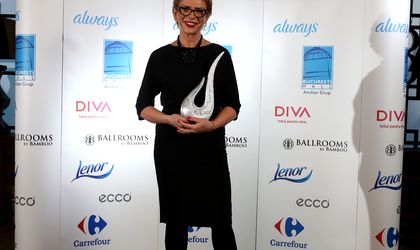 Eva.ro, the first lifestyle website for women in Romania, has celebrated 14 years with an unique gala, at the Bamboo Ballroom Ho LaLa. Over 500 guests, from which many public personalities in the Romanian showbiz, attended the event. The Gala was presented Geanina Ilies, the evening being open by DJ John Rivas and continued with shows by Nicole Cherry and  Bogdan Vladau, dancing moments by "Bamboo Girls " and Moty dance.
From the list of stars we recount: Smiley, Loredana, Adrian Hadean, Teo Trandafir, Anca Serea, Alexandru Constantin, Raluca Badulescu, Alina Eremia, Carmen Negoita,  Gabriela Cristea,  Christian Sabbagh, Catalin Maruta, Ellie White, Doru Tinca, Adelina Pestritu, Ilinca Vandici, Cori Gramescu, Diana Munteanu, Dana Savuica, Roxana Iliescu,  Nadine, Sore, Vica Blochina, Cove, Oana Mares, Alina Puscas, Eli Laslean, Paula Chirila, Cristina Cioran, Mihaela Calin, Ana Maria Barnoski, Bursuq, Izabela Panescu, Florentina Opris, etc.
Also, during the Gala, a jury made of 5 public personalities (Dana Savuica, Adina Necula -imagine and style consultant-, Emilian Isaila – editor in chief eva.ro- , Maria Andrei -fashion/style & lifestyle director -, and Monica Vlad – Personal Branding -)decided the winning stars in the 15th categories.
The evening's winners were:
Most loved start with children – Anca Serea
Most loved female TV star – Andreea Berecleanu
Most loved male TV star – Catalin Maruta
Most loved artist – Smiley
Most loved female artist – Loredana
Most attractive female tv star – Geanina Ilies
Most attractive male tv star – Alexandru Constantin
Most loved couple of tv presenters – Razvan and Dani
Most appreciated culinary show – Master Chef
Most appreciated entertainment show – Te cunosc de undeva
Most appreciated entertainment show – late night show – Wow Biz
Most appreciated show – talent show – Vocea României
Most loved star blog – Ellie White
Most loved star couple – Andra and Catalin Maruta
Best song of 2015 – Delia – Da mama
As in every edition of Eva.ro Gala, the website's team decided to offer a series of 19 special awards, as follows:
The special award for the entire tv career – Teo Trandafir
The special award for the fastest musical rise – Alina Eremia
The special award for the most spectacular transformation in showbiz – Raluca Badulescu
The special award for coaching in lifestyle and nutrition – Cori Gramescu
The special award for excellence in entertainment and organizing events – Bamboo Group
The special award for the first and most heartfelt mall – Bucharest Mall
The special award for an unstoppable girl – Alexandra Marinescu
The special award for feminine style and elegance – Simona Patruleasa
The special award for masculine style and elegance – Catalin Botezatu
The special award for the most sexy male star – Bogdan Vladau
The special award for the most sexy female star – Adelina Pestritu
The special award for Celebrity Gossip Show – Vorbeste Lumea
The special award for 14 years of Christmas shows in a row – Stefan Banica
The special award for reality show – Te vreau langa mine
The special award for investigating reporting – Christian Sabbagh
The special award for the most loved cooking blog – AdiHadean.ro
The special award for the most loved jury member – Horia Brenciu
The special award for the most loved female jury member – Andra Maruta
The special award for the most longevive healthy lifestyle show – Sport, Dieta si o Vedeta – Florentina Opris
The recording of the Gala can be watched here: http://www.eva.ro/14-ani/
Romanita Oprea