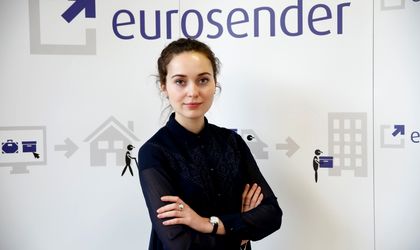 Online shipping platform Eurosender estimates a daily quota of 200 deliveries in 2016, with the year-end target of 70,000 deliveries, double the forecasts it had at launch, in October 2015. In a statement released to the press the company shows that the positive expectations projected onto the year come from investments budgeted for this year and from the launch of new services.
"The good results on the market in Romania and its potential have led us to prioritize investment towards the development of operational activity locally. Now, Romania is the third country in terms of development because of the way in which Eurosender services were received by Romanian customers. This year we will focus on the cargo and B2C segments, but also on standard services, thus relying on the retention of existing customers," said Gabriela Buzoianu, country manager Eurosender.
The company looks to invest up to EUR 200,000 during the first quarter of the year into expanding its client service team and marketing activities. It will also launch the Sameday Pick Up service for individuals and expand services available to business customers in Slovenia to countries of operation, including Romania.
Another objective of the company for this year will be to expand into the B2C segment, with some online stores having integrated the Eurosender services.
The platform boasts shipping costs up to 70 percent lower than standard courier costs, because of the shipping volume. As an example, sending a 20 kg parcel from Romania to Italy or Germany has a cost of EUR 24.99, while from Romania to Great Britain or Spain of EUR 29.99. For any package which exceeds 50 kg, an individual offer is made.
Eurosender is a door-to-door delivery platform active across the EU. It was founded in 2014 by three young entrepreneurs in Slovenia and works with DPD and GLS courier companies, acting as an intermediary, taking delivery orders online and then identifying a courier company to provide transport.
Natalia Martian