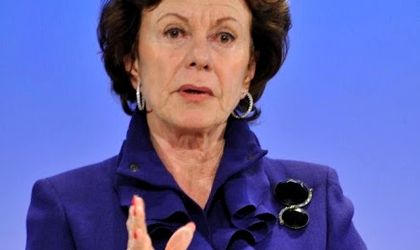 More and more Europeans choose to use the Wi-Fi internet services, with 71 percent of the total wireless data traffic in the European Union in 2012 was used from smartphones and tablets.
By 2016, it is expected that this wireless internet usage will grow to 78 percent, according to a survey of the European Commission.
The recommendation of the survey is that the EU places at the consumers' disposal more spectrum to meet this growing demand.
Neelie Kroes, vice-president of the European Commission (in picture) said that she intends to make sure that the EC will contribute to the growth of Wi-Fi internet usage by providing supplementary frequencies and less strict norms.
Currently, consumers pay high tariffs to use the 3G or 4G networks, especially in roaming, and the networks are overcrowded, due to the lack of spectrum, shows the survey.
Kroes said that the wi-fi networks shared by multiple users illustrates very well the way in which crowdsourcing can insure a better internet connection for everybody.
The EC vice-president also pointed out that Europeans should have internet access all the time, not only when they are at work or at home.
Using Wi-Fi connection in conjunction with other infrastructure can reduce the overcrowding of the networks and minimise costs for both telecom operators, that could save tens of billions of euro spent on updating the networks, and eventually for end-users.
When they are close to a Wi-Fi hotspot, internet users can save costs by switching to Wi-Fi instead of using their mobile data connection. Wi-Fi micro-cells can expand the network coverage to places which are difficult to rreach, such as inside large buildings.
The survey recommends that the frequencies between 5150 MHz and 5925 MHz are made available for Wi-Fi worldwide.
Also, 2,6 GHz and 3,5 GHz frequencies should be entirely made available for mobile usage and public consultations should start regarding options for the 3,5 GHz bandwidth.
Otilia Haraga