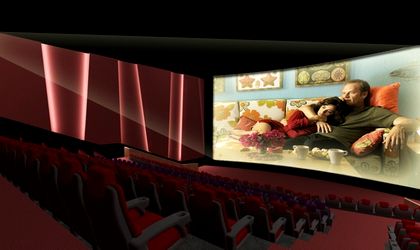 The European Film Festival will take place between May 9-11, at Cinema Studio and Cinema Eforie. On this seventh edition, the festival brings movies from ten different countries, as well as a selection of cinema projects made by students from the National University of Arts Bucharest.
The program of the festival can be seen below:
May 9
19.00, Cinema Studio – The Guard, 2011, d. John Michael McDonagh.
Synopsis: An unorthodox Irish policeman with a confrontational personality is teamed up with an uptight FBI agent to investigate an international drug-smuggling ring.
20.00, Cinema Eforie – Tiger Glass 3, 2010, d. Peter Rudolf.
Synopsis: Glass Tiger 3 centers on Lali (played by the director), who leaves his provincial sandwich shop (called Glass Tiger) and finds himself thrust into the life of a well-known Budapest lawyer. The latter takes over from him in the shop.
May 10
16.30, Cinema Eforie – Easy money, 2011, d. Daniel Espinosa.
Synopsis: Johan "JW" Westlund is a man living in Stockholm and is a promising student at the Stockholm School of Economics. JW is originally from the Norrland region in Sweden where his father, who has a slight drinking problem, works in a saw mill, while his mother works in a jobs agency. JW is racked by the disappearance of his sister, Camilla, four years earlier. JW feigns the appearance of a "Stekare" (in Swedish parlance, a lifestyle based on flaunting one's apparent wealth), actually leading a double life driving taxi illegally to finance his expensive life on Stureplan. A romance with the upper class girl Sophie leads to him being enticed into the world of organized crime. Abdulkarim, who is running the taxi business, offers JW a job in helping him start his cocaine business.
17.00, Cinema Studio – cinema projects made by students from the National University of Arts Bucharest
18.00, Cinema Studio – Wrinkles, 2012, d. Ignacio Ferreras.
Synopsis: Based on Paco Roca´s comic of the same title (2008 National Comic Prize), WRINKLES is a 2D animated feature-length film for an adult audience. Wrinkles portrays the friendship between Emilio and Miguel, two aged gentlemen shut away in a care home.
19.00, Cinema Eforie – Irish short movies
19.00, Cinema Studio – Kotlovina, 2011, d. Tomislav Radić
Synopsis: A big family reunion at the weekend cottage around traditional food preparation "kotlovina" – quaintly amusing and earnest situations revealing what is stronger: ties of blood or culture and the way of living.
20.00, Cinema Eforie – Stella days, 2011, Thaddeus O'Sullivan.
Synopsis: A small town cinema in rural Ireland becomes the setting for a dramatic struggle between faith and passion, Rome and Hollywood and a man and his conscience. The film is the story of a man, a story about the conflict between love and duty, hope and faith, and between the excitement of the unknown and the security of the familiar. It encapsulates the dilemma of Ireland in the mid-1950s – on the cusp of the modern but still clinging to the traditions of church and a cultural identity forged in very different times.
May 11
15.00, Cinema Eforie – Dancing on broken glass, 2012, d. Marek Tapák.
Synopsis: With his latest film, director Marek Tapák draws liberally from the strong tradition of folkdance musicals established by legendary Slovak filmmakers, offering a contemporary rendition of a classic genre. The story is set in the mind of the protagonist, a man of ripe age. Plumbing the depths of his own memory, he relives his life's pivotal moments through dance, enthralling music, affection and the power of poetry. His journey is composed of individual fragments of his life, forming a mosaic spanning time and space.
16.00, Cinema Studio – March 8, 2012, d. Alexandru Belc.
Synopsis: The documentary presents how Romania celebrates the March 8, the "International Women's Day".
16.30, Cinema Eforie – No Rest for the Wicked, 2011, d. Enrique Urbizu.
Synopsis: Inspector Santos Trinidad, a veteran policeman, drinks too much and works too little. Maybe to forget he was once a model officer at the Intelligence Unit now downgraded to the Missing Persons Unit.
17.30, Cinema Studio – Practical guide to Belgrade with singing and crying, 2011, d. Bojan Vuletić.
Synopsis: Romantic comedy or episodic movie? As we watch four couples in present-day Belgrade grapple with the trials and tribulations of love, the film proves to be both (and much more besides). Silvie, a chanson singer on the verge of a nervous breakdown, is escorted round the city by the young chauffeur Stefan for one day and one night.
18.30, Cinema Eforie – 3 Simo, 2012, d. Teemu Nikki.
Synopsis: Lasse and Simo are burglars in Helsinki. Simo has had a one night stand with Eeva, who named her baby after his father Simo. The name is the only thing that she remembers about him.
19.30, Cinema Studio – In the Fog / V tumane, 2012, d. Sergei Loznitsa.
Synopsis: Western frontiers of the USSR, 1942. The region is under German occupation. A man is wrongly accused of collaboration. Desperate to save his dignity, he faces impossible moral choice.
20.00, Cinema Eforie – 80 millions, 2012, d. Waldemar Krzystek.
Synopsis: Set in Wroclaw in 1981, 80 Million is an exciting political thriller about the struggle against Communism, full of suspense, humor and surprising twists and turns. The title refers to the amount of zlotys that five young union leaders withdrew from the Solidarity bank account just days before the declaration of martial law in Poland and the freezing of the account. Their daring feat took place in spite of the fact that the feared Security Services were dogging their every move. The money was later used to build the underground resistance movement.
Oana Vasiliu