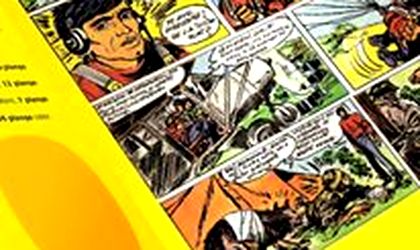 The third edition of the European Comics Salon gathers in Bucharest, between November 7 and December 5, exhibitors from the Czech Republic, Poland, France, Hungary, Wallonia -Brussels, Germany and Romania.
Both specialists and the public eager to discover the comics will have the opportunity to meet the invited artists, to participate in discussions, presentations and workshops, to watch animation films, to browse through albums and magazines and to buy the latest Romanian and international comics titles.
Exhibitions opened on the occasion of the European Comics Salon at Victoria Art Center reflect the diversity of European comics. The "Romanian-Czech relations in comic strips — work in progress" presents in a non-traditional way the traditionally good relations between the Czech Republic and Romania through three publications (from a total of eight) in the work-in progress variant.
"Miserere hominem — Man, have mercy ! " is an exhibition of artist Lakatos Istvan and contains drawings from the comics with the same title reflecting the author's ideas on his own faith in God, his view of the church, people and their relationship with the world, all conceived in a steampunk Gothic future .
" Spirou, a 5-star Hero 5″ tracks the 75 years of existence of " Le Journal de Spirou " magazine and of the comic strip character Spirou, a legend in French-speaking Belgium .
"Greetings from Berlin " provides a chronological overview of the German illustrator Atak creation / Georg Barber : a black and white comics strip of the 90s , color drawings for newspapers, posters, serigraphy works, sculptures, book illustrations, as well as a legendary installation "The Toy Box" .
The Romanian Comics will be presented via a selection of works by Romanian comics artists published abroad and by comics strips published this year in the "Comics" magazine.
The European Comics Salon is a project of EUNIC Bucharest cluster ( the European Network of National Cultural Institutes), organized by the Czech Centre, Hungarian Institute in Bucharest, Wallonie—Bruxelles Delegation, Goethe—Institute, Romanian Cultural Institute, French Institute, Polish Institute, in partnership with Victoria Art Center, Half Full Association, MM Europe Publishing House and Museum of Comic Strips.
Those interested can visit the exhibition spaces in 12C, Calea Victoriei — Victoria Art Center, 1, Piata Amzei — Half Full — Bar A1, as well as the associated spaces : Anthony Frost English Bookshop ( 45, Calea Victoriei), Kyralina Bookshops ( 8, George Enescu Str.) and Saint Ink ( 3, Doamnei Str.).