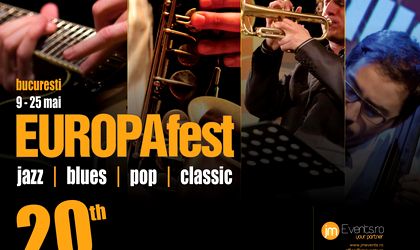 The organizers of jazz extravaganza EUROPAfest have begun announcing some of the acts and events that will form part of the festival next month. Some 27 bands from 22 countries – Argentina, Austria, Bosnia and Herzegovina, Colombia, Croatia, Estonia, France, Germany, Hungary, Iceland, Indonesia, Italy, Mexico, Portugal, Romania, Russia, Spain, Switzerland, the UK, USA, Ukraine and Uruguay – will take to the stage over a week in May in the Bucharest International Jazz Competition, which takes place under the EUROPAfest umbrella. The contest runs from 18-25 May.
It has also been announced that American jazz artist Mike Davison will hold the workshop Cuba: Rhythm in Motion, while jam sessions will bring together artists from different cultural backgrounds. The result will be a fusion of US, European and South American jazz sounds. Seeking to emphasize "versatility, force and freedom through excellence", EUROPAfest events will be held at the Odeon Theatre, Arcub Hall, New Academy of Music, the European Public Space, as well as in unconventional spaces such as the club Loft.
Now on its seventh run, the Bucharest International Jazz Competition has built up an enviable reputation as the most prestigious international jazz contest in the region and was ranked by BBC as one of the top three jazz contests in Europe. EUROPAfest also hosts the Jeunesses International Music Competition, which this year will see 144 pianists from 41 countries perform.
Operating under the slogan, "It's all about live quality music!", EUROPAfest features jazz, blues, pop and classical and seeks to stand out through its professionalism and elegance, said festival director, Luigi Gageos. Taking place over 17 days in May, the event will host over 300 performers from 52 countries across four continents, announced the organizers. The festivities kick off with the traditional concert on Europe Day, 9 May, and will continue with concerts, jam sessions, workshops and other events. For more details visit www.facebook.com/EUROPAfest.Bucharest or www.jmevents.ro.
Debbie Stowe