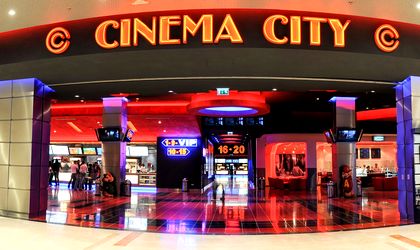 Cinema City, part of the Cineworld Group, opened its 19th multiplex in City Park Mall Constanta, say company representatives.
The multiplex is the result of a EUR 6.5 million investment and has the second 4DX cinema hall in Romania. The first one is in Mega Mall Bucharest, and the company plans to open a third one in Timisoara within the following months.
The 4DXtechnology, developed by the South Coreean group CJ, offers a cinema experience involving all five senses. The hall seats benefit from mobile and high-tech special effects including wind, fog, lightning, soap bubbles, water, rain and scents, available for both 2D films and 3D films. These effects are perfectly synchronized with the onscreen action, creating a unique cinematic experience.
The new Constanta multiplex marks Cinema City's aggressive expansion strategy across the country. Constanta has 10 cinema halls, fully digitized, one of them being the 4DX hall with 144 seats out of a total of 1,687.
Ticket prices for movies projected in the 4DX hall range between RON 29 and RON 37, depending on the day of the week, daytime period and type of movie (2D or 3D).
Cinema City has multiplexes in 13 cities across the country: Bucharest, Arad, Bacau, Baia Mare, Braila, Cluj, Constanta, Iasi, Ploiesti, Pitesti, Targu Jiu, Targu Mures and Timisoara. It operates a total of 19 multiplex centres, with 178 halls in total and over 34,100 seats.
Cineworld Group is active in nine countries, owning a total of 210 multiplex centres, with 1,943 halls, of which 24 have the IMAX technology and 11 have the 4DX technology. Its first cinema was open in 1930 in Haifa, Israel, the company starting its expansion in Central Europe in 1997 and entering Romania in 2007.
Natalia Martian