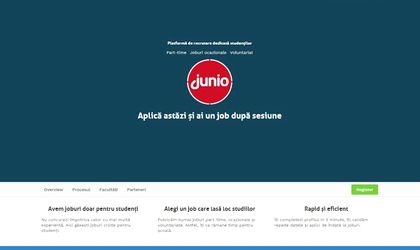 Three local entrepreneurs developed Junio, a new online student recruitment platform aiming to facilitate students' search for part-time, occasional or volunteer-based work, according to a company press release.
Vlad Posea, national coordinator for Stagii pe Bune, and Cornel Nitu and Valentin Popescu from Eau de Web, a Romanian web design company, based the Junio concept  on "experience gained in the past years through the Stagii pe Bune series of events", says the press release. Junio comes as a response to two problems that students encounter, specifically "if they work full time, the university and its demands will be ignored, and if they don't find work, they risk financial problems, but also having insufficient work experience at the end of their studies", state company representatives.
In the next few months, Junio will be extending its activity to several universities and companies, starting off with first making offers available for students in Bucharest and Iasi. Following that, the offers will be extended to Cluj and Timisoara, and "as for the clients, the objective is that in six months there will be around 100 companies recruiting through Junio", further details the press release.
At this point, partnerships with various student associations, such as the Association of Francophone Students and Graduates (ASAFF), the Association of Accounting Management Information Systems Students (ASCIG), and others, have been set up "in order to inform [students] regarding Junio and the opportunities available to them", states the press release.
 Andreea Tint