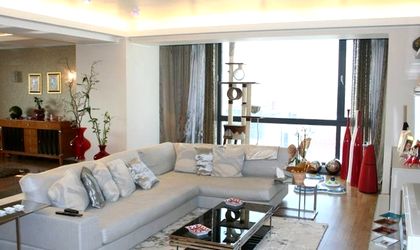 Located in the northern part of Bucharest, the most expensive penthouse currently for sale in the city covers 560 sqm on two floors and has 12 rooms, 6 bathrooms, one kitchen, sauna, jacuzzi and a wine cellar, according to a top of the most expensive such properties put together by Imobiliare.ro. The property is located on the last two floors of a building delivered in 2005 and also comes with three parking places. For all this, the future owner will have to pay EUR 3.5 million.
The small residential projects built during the crisis years in northern Bucharest take the first positions in Imobilare.ro's top. Such a property is the second most expensive penthouse in the capital at EUR 2 million. For this amount, the future owner gets a 330 sqm property with 6 rooms, 4 bathrooms a 140sqm terrace and two parking places. Another EUR 2 million penthouse is located on Dorobanti Road and has 14 rooms, 14 bathrooms and four kitchens covering a total of 960 sqm.
Outside Bucharest, prices are considerable lower, Brasov coming second in the top right behind Bucharest. The most expensive penthouse there costs EUR 700,000, covers 290 sqm and is located in the city's center. For another 300 sqm property the price is EUR 500,000. The most expensive penthouse in Constanta costs EUR 279, 000 (205 sqm), in Cluj-Napoca EUR 260,000 (205 sqm) and in Timisoara prices go as high as EUR 250,000 (220 sqm). The cheapest penthouses can be found in Iasi where a 180 sqm property costs EUR 199,000.
Simona Bazavan