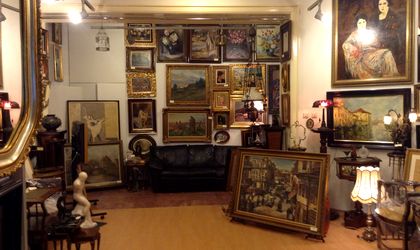 In an art auction taking place at AraArt auction house and art gallery, Nicolae Tonitza took the spotlight with two works that gathered EUR 27,000, according to gallery representatives.
Flowers in blue mug, a canvas glued on cardboard, was auctioned at the price of EUR 18,000 and his son's portrait, Peter, an oil on cardboard won at the price of EUR 9,000.
Another notable piece was Cattle drinking, an oil on wood composition by Nicolae Grigorescu, who is justly considered Romania's national painter. The painting was awarded for EUR 10,000. Also in the rural theme fall other works in the auction, such as Flock by Pan Ioanid and Washerwomen signed by Rudolf Schweitzer balances.
A great interest gathered also works covering flowers, art collectors buying works depicting floral arrangements signed by Octav Bancila (Chrysanthemums, oil on cardboard, sold for EUR 6.000) and Alexandru Ciucurencu (Carnations, still life oil on cardboard, awarded for the amount of EUR 5,000).
Travel and exotic works have also attracted the art collectors, who bought Reading by Nicolae Vermont for EUR 2,600 and Piazza San Marco, signed by Theodor Aman for EUR 2,200.
The papers and technical details can be studied on the art gallery's website. The art auction house began its operations in 2010, working as an art gallery since 2005.
Natalia Martian