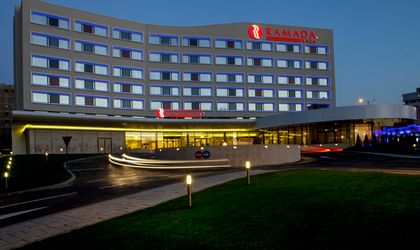 A Ramada Plaza hotel was opened this November 25 in Craiova, souththern Romania, following a EUR 14 million investment made by local company Jiul SA. The investment went into the refurbishment of the former Jiul Hotel and was financed in the greatest extent by a bank loan from Garanti Bank. Addressing business and leisure segments in a ratio of 90-10 percent, Ramada Plaza Craiova expects a turnover of EUR 2.5 million and over 50 percent average occupancy in its first year of activity, according to company representatives.
The unit in Craiova is the only Ramada Plaza property outside the capital. It features four-star plus lodging facilities (162 rooms), a conference center, two gastronomic restaurants and a SPA. The events & conventions center offers three multifunctional conference halls and one grand ballroom and has a capacity of up to 550 persons.
Ramada Plaza is a Wyndham Hotel Group brand "representing the upper tier" of the group's brands.
The project's concept and brand affiliation was ensured by Trend Hospitality, the strategic partner of Wyndham Hotel Group in Romania, Bulgaria and Moldova. With 12 Ramada units in Romania and three more in development, Ramada is the largest international network in the country, according to its data.
Simona Bazavan